For all the fitness fanatics in the world, Microsoft has just unveiled its new fitness band that will consolidate several health apps and will have its own propriety system to let you check your email and even pay for retail items. If that sounds like familiar territory that's because it is: Apple and Google both announced plans for fitness gadgets earlier this same year.
The $199 band will work hand-in-hand with Microsoft Health, a new system that consolidates the data ranging from different health apps and gadgets. Surprisingly, this system (Microsoft Health) will work in conjunction with rival phones – such as the iPhone and Android units – instead of just focusing on phones running solely on Windows Mobile OS.
Release for the new Microsoft Band will be several months ahead of the much-anticipated Apple Watch and next version of Google's Android Wear. Microsoft's main advantage, other than an earlier release, is that their gadget will focus primarily on health apps instead of securing itself as an all-around watch gadget. So what features will it have?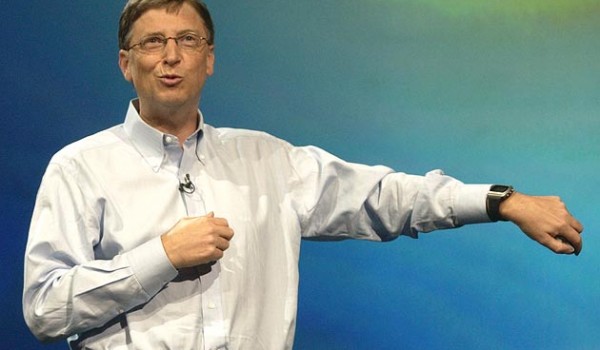 Its primary function is to pull several different health tracks together into one gadget and the Microsoft Band does this through ten different tracking sensors. Consumers will be able to consistently keep track of their heart rate, distance travelled (and with different pedometer settings as well), sleep, and UV light.
This system assists athletes who keep track of different data across different apps and devices. A person might be using one app as a pedometer and another app to monitor daily health changes or a dietary plan. The Microsoft Band will collaborate with these apps so that all of the information can be displayed on one gadget that is easy to access while on the go. Users will no longer have to wade through different apps just to chart their progress.
The app also links the user to the Microsoft HealthVault. HealthVault is a system that links information from other trackers. This will allow you follow data changes from trackers that monitor weight, blood glucose monitors, and blood pressure monitor devices.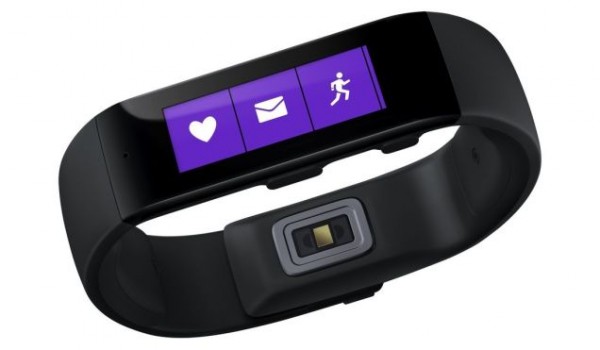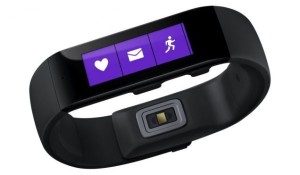 The main gimmick is that it will run several apps through Microsoft's new virtual assistant, Cortana. Cortana – a nice nod to the Artificial Intelligence spawned from Microsoft's popular science fiction series (Halo) – will be able to coordinate information simultaneously through several apps on any Windows Phone. Consumers will be updated on calendar events, preview incoming email, and others. Most features will require Cortana through a Windows phone but other apps and features will still be available when run on Android or iOS devices. You just won't have that nice sense of unity through some devices without it.
On a side note, users are not required to have their phone with them at all times to use the Microsoft Band. It has its own GPS system built right into it and it can keep track of data on its own. Users will simply need to connect to a phone when they want to update data and connect to the Microsoft Health cloud network.
Consumers will also be able to set different activity goals. Each activity is logged and the user will be able to monitor their progress through daily, weekly, and monthly logs. Users will even be able to congratulate themselves with a virtual high-five when each activity has been accomplished.
Conveniently, Microsoft has paired with several companies such as Starbucks that will allow the Band to conduct gift-card transactions. This is beneficial to athletes who like to buy energy drinks, coffee, or others right after their morning jog or trip to the gym.
The watch will come in three different sizes: small (39mm), medium (41mm), and large (49mm). The screen, on the other hand, has a 320x106mm resolution and it is a TFT full-colour touch screen. This is mighty impressive for a small device that can show off a lot of information but it is a tad bit disappointing that it doesn't sport the same Super AMOLED display like its Samsung Gear S competition.
One major upside is that this is one of Microsoft's best jumps into a shared network system. One would expect the Microsoft Band to work solely on a Windows phone but surprisingly they had announced it is still compatible with apps running on iOS and Android.
Another surprising bit is that the device will be available on Thursday, November 6, 2014. This means that Microsoft will be the first to truly walk into the "health watch" gimmick before Apple and Android get to release their own devices. Of course other electronic powerhouses like Samsung have already released their own but among the "Big Three", Microsoft got a leg up on the race.
For any fitness enthusiast or athlete, the Microsoft Band will be a must-have. Users will no longer have to browse through different apps on different devices just to synchronize their data and monitor their progress. This device will consolidate it all and present it on a simple, elegant watch that is comfortable to wear and easy to use.