September, 2021. Prices on this site are updated each month.
American Family Fitness also known as AmFam is a major health and fitness gym facility situated in Richmond, Virginia. Currently, it operates nine health clubs within Richmond, Fredericksburg and Williamsburg areas.
At American Family Fitness, there are over  300 Group Fitness classes per week to choose from, a plethora of cardio and weight equipment, pools, basketball and racquetball courts, indoor tracks and a state of the art Hot Yoga studio to offer a wide variety of workouts to make every member successful in  achieving their fitness and health goals. Please contact an American Family Fitness location for the most up-to-date info as pricing may change at any time.
Below are the latest American Family Fitness prices.
Item
Price

Monthly

Single: One Adult

Initiation Fee (One Person) (Monthly)
$0.00
Starting At (One Person) (Monthly)
$39.95
Annual Maintenance Fee (One Person) (Monthly)
$49.00
Cancellation Fee (One Person) (Monthly)
$0.00

Dual: Two Adults

Initiation Fee (Two People) (Monthly)
$0.00
Starting At (Two People) (Monthly)
$72.95
Annual Maintenance Fee (Two People) (Monthly)
$49.00
Cancellation Fee (Two People) (Monthly)
$0.00

Annually

Single: One Adult

Initiation Fee (One Person) (Annually)
$0.00
Starting At (One Person) (Annually)
$720.00
Annual Maintenance Fee (One Person) (Annually)
$49.00
Cancellation Fee (One Person) (Annually)
$0.00

Dual: Two Adults

Initiation Fee (Two People) (Annually)
$0.00
Starting At (Two People) (Annually)
$1,020.00
Annual Maintenance Fee (Two People) (Annually)
$49.00
Cancellation Fee (Two People) (Annually)
$0.00
Disclaimer: PriceListo gathers actual pricing information from sources such as on-site visits, business websites, and phone interviews. The prices reported on this webpage derive from one or more of those sources. Naturally, the prices reported on this website may not be current, and may not apply to all locations of a given business brand. To obtain current pricing, contact the individual business location of interest to you.
American Family Fitness prices provided by
PriceListo
.
History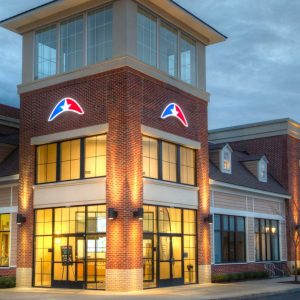 Operating for almost 27 years, the fitness center offers families, groups, and individuals many superb facilities and equipment as well as excellent fitness training and guide. These vital components that make up the gym will help members in improving their overall wellness and physique. American Family Fitness has its origin in Richmond, Virginia and is operating there since 1988.  Because of its uniqueness and dedication in providing the highest quality fitness and health service while asking only for minimal American Family Fitness fees, it immediately became well-known in the area, gaining a great number of members in record time. Today, the health and fitness organization boasts of 9 sites, 7 of which is found in Richmond, and the rest in Fredericksburg and Williamsburg. Those within the Richmond areas only have American Family Fitness in mind whenever they think of improving physique and wellness, and maintaining overall health.
Membership Fees
American Family Fitness ensures easy access to its valuable programs and facilities by offering a number of membership plans. The list includes special fee packages for couples, groups, and families. There are also easy and affordable plans designed to take in students, seniors, and police. In other to entice busy individuals to join, American Family offers a number of corporate packages as well. Prospective members are advised to contact an AFF club within or nearest their location in order to obtain specific information about membership prices and applicable rates. American Family Fitness costs begin at $39.95 a month, depending on the location of the fitness club.
What are the benefits of membership?
As you sign up for a plan of your choice, you become eligible for an eight-week course called AmFamU. Totally free, the course teaches members the basics of exercises and workout training. It also discusses a number of effective fitness options. Apart from the course, members of American Family Fitness are automatically given a free week pass. Those belonging to specific plans will be able to choose from a wide array of personal training routine and program options.
American Family Fitness, hands down, is one of the most exciting training facilities in the country. This is the reason why more and more people opt in joining AFF as members. Two of the most important benefits of membership are 1-hour consultation and advice from a Certified Personal Trainer, access to Functional Movement Screening, or FMS, that helps determine any existing potential risk for bodily injury, and adequate information and advice on which class, equipment, and services to choose.
As member, you are assured of the presence of high-tech cardiovascular equipment at all locations. You may use either or both free weights and mechanical weight, as well as circuit training. You can attend many regular Mind and Body and Group-X classes every week. You can also engage in different sports played in the gym such as Aquatics and Court sports. The gym also offers a number of special youth programs and the services of a KidZone child center. Finally, you can take advantage of hot yoga at the Virginia Center Commons location. Such benefits are available, without having to worry about any addition to American Family Fitness prices.
Personalized approach
As soon as you sign up for membership at American Family Fitness, you can take advantage of a special Personal Training Consultation. You may stop by at any time at any AFF fitness counter at any site in order to schedule. The consultation will have you engaged in a personal meeting with a professional AFF certified personal trainer.They will make an assessment of your current physical status.  They will also determine your fitness goals, which upon learning will help them create a specific workout and fitness plan to ensure that you are taking the proper way towards your fitness journey.
A personal training consultation at American Family Fitness includes personalized goal setting with a certified personal trainer, use of advanced equipment that includes Functional Movement Screen, determining heart beat rate training zone, and the trainer's professional advice and recommendation. With  a personal training consultation, at no additional membership costs, you will experience a personal and customized attention that you deserve. With ample motivation from your own AFF certified personal trainer, you are guaranteed to obtain desired fitness results. They will help you understand the significance of consistency in performing exercise routine and regularly taking proper nutrition. In other words, the American Family Fitness certified personal trainer will help you in working and staying within a truly effective fitness program.
If you want to learn more information about American Family Fitness, visit their official website.