2023. Prices may vary by location and are updated frequently.
Item
Price

Monthly

Single: One Adult

Initiation Fee (One Person) (Monthly)
$0.00
Starting At (One Person) (Monthly)
$39.95
Annual Maintenance Fee (One Person) (Monthly)
$49.00
Cancellation Fee (One Person) (Monthly)
$0.00

Dual: Two Adults

Initiation Fee (Two People) (Monthly)
$0.00
Starting At (Two People) (Monthly)
$72.95
Annual Maintenance Fee (Two People) (Monthly)
$49.00
Cancellation Fee (Two People) (Monthly)
$0.00

Annually

Single: One Adult

Initiation Fee (One Person) (Annually)
$0.00
Starting At (One Person) (Annually)
$720.00
Annual Maintenance Fee (One Person) (Annually)
$49.00
Cancellation Fee (One Person) (Annually)
$0.00

Dual: Two Adults

Initiation Fee (Two People) (Annually)
$0.00
Starting At (Two People) (Annually)
$1,020.00
Annual Maintenance Fee (Two People) (Annually)
$49.00
Cancellation Fee (Two People) (Annually)
$0.00
Disclaimer: PriceListo gathers actual pricing information from sources such as on-site visits, business websites, and phone interviews. The prices reported on this webpage derive from one or more of those sources. Naturally, the prices reported on this website may not be current, and may not apply to all locations of a given business brand. To obtain current pricing, contact the individual business location of interest to you.
American Family Fitness prices provided by
PriceListo
.
About American Family Fitness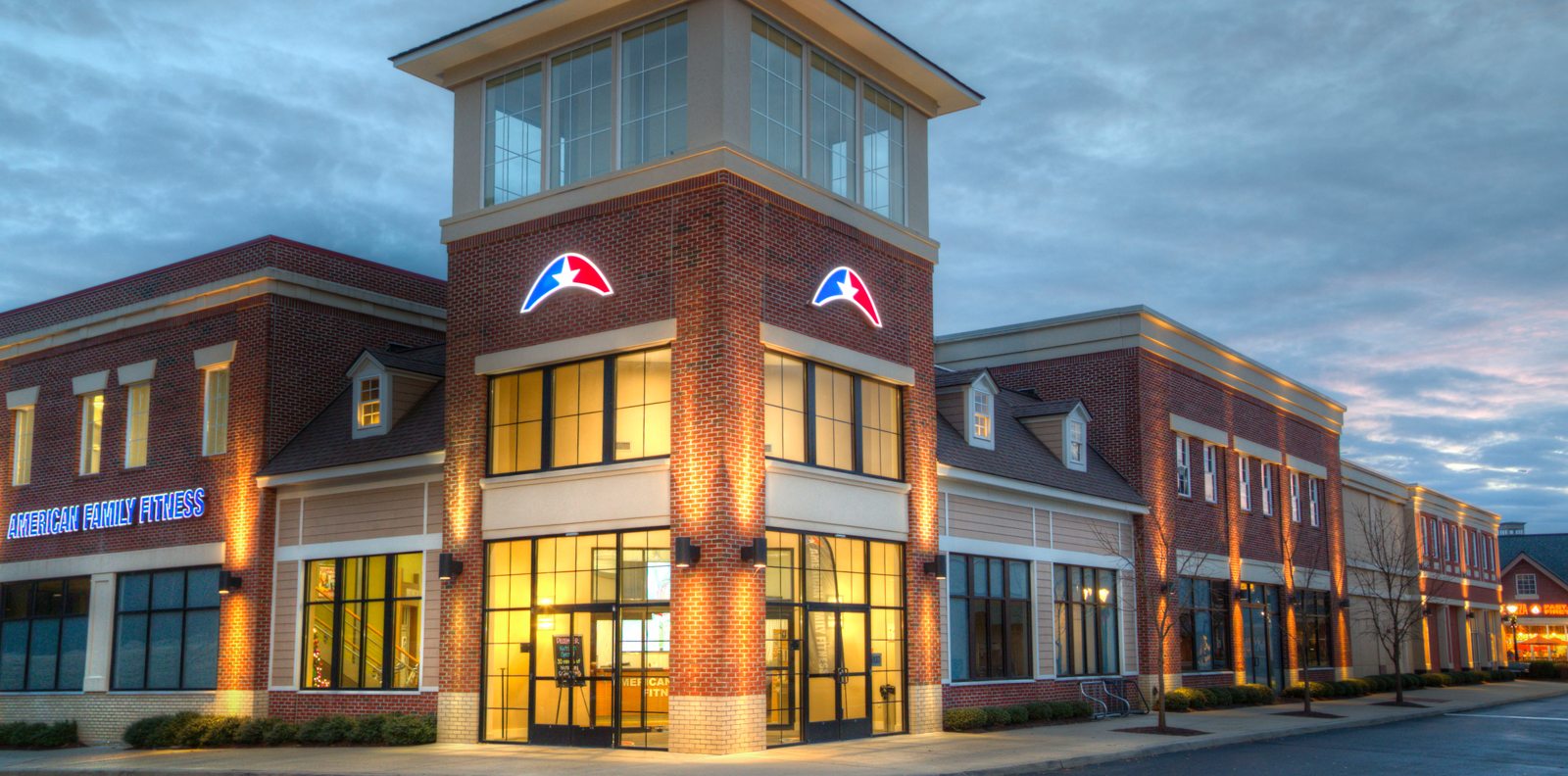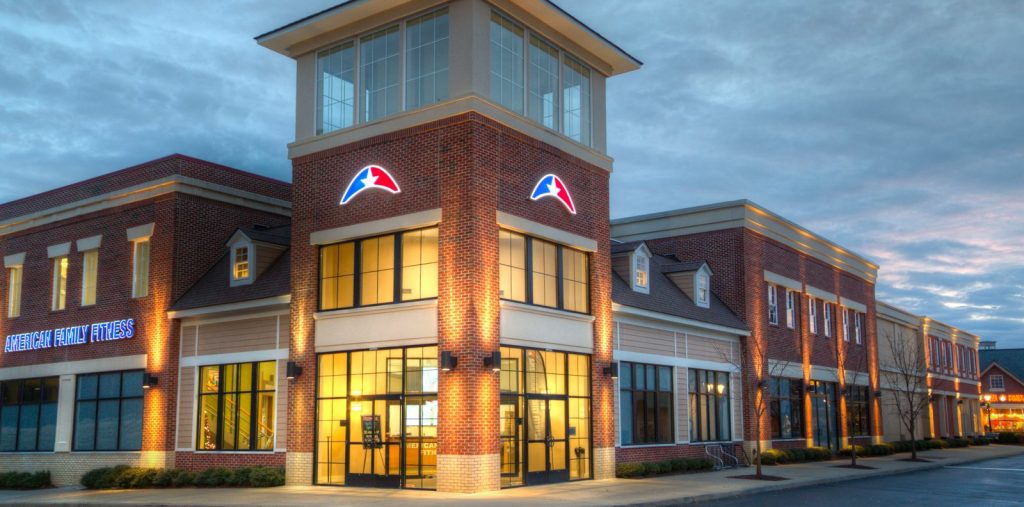 American Family Fitness isn't about bringing their gyms across the entire US. They focus solely on serving their Virginia community. This is why they only have a limited number of gyms. They have 7 gyms in Richmond, with one gym in Fredericksburg and another in Williamsburg.
Yet even with just 9 gyms, American Family Fitness employs more than 1,200 trainers, instructors, dieticians, and workers. They have more than 110,000 members enjoying a wide range of benefit and features.
Basic Membership Benefits
Complete access to all locations
1-hour consultation with certified professional trainer
AmFam-U: this is the free 8-week course that teaches the basics of a successful exercise program
Lots of exercise equipment, including swimming pools, basketball courts, and racquetball courts
The Kidzone (the child care center) along with many specialized youth programs
Hundreds of classes each week, along with swim lessons and Red Cross training
Programs
The programs are designed to appeal to a wide range of ages and interests.
Group Fitness
These include various options for:
Strength training and muscle-building
Cardio health
Weight loss
Improving mind and body awareness
Enhancing range of motion
Youth Fitness
Children between the ages of 9 to 13 offer various activities and workouts appropriate for their age and size. These include many different games, summer camps, cardio and strength training, and swimming lessons.
The Kidzone is great for infants as young as 6 weeks up to kids entering their teens. They all get fun workouts and activities with proper supervision.
Aqua Fitness
This is available the whole year round.
Group activities include various options ranging from low-impact aqua yoga to high intensity water aerobics.
One-on-one personal training is also available.
There are lap pools and kids' pools, and various swim clubs and swimming lessons.
Metabolic Testing
This includes several types of tests that help you understand your metabolic rate. That way, you can then determine the best methods to exercise to meet your goals.
The first test is the RMR (resting metabolic rate) test. This determines your metabolic rate by measuring the oxygen levels of the air you're breathing in. With this test, you'll learn how many calories you normally burn per day. This will help you find out how many calories you need to consume or burn off to meet your fitness goals.
Next is the VO2 test, which measures your oxygen consumption while you work out. The results can help you identify the optimal heart rate workout zones you should try to stay in so you can achieve your fitness goals.
Guided Training
Here, personal training is available for a more focused workout that meets your precise needs. This makes sure you get all the help you need to meet your fitness goals.
But if you prefer the energy of working out with a group even while you also wish to retain the benefits of 1-on-1 personal training, AFF offers fusion training with small group and team training. That means you can exercise with friends and family even while receiving focused guidance.
Workouts can last up to an entire hour, while targeting specific areas of the body. AFF incorporates the latest trends in fitness, including new methods such as BOSU and TRX. AFF also uses the latest technology to monitor your progress.
Cardio Training
AFF offers plenty of exercise equipment to pick from. These include:
Arc trainers
Ellipticals
Cycles
Treadmills
Indoor tracks (which are easier on joints than hard pavement)
You can control the speed and intensity of your workouts, and you can also add weight training with cardio for a full body workout.
Circuit Training
This starts with the AmFam U, which is the 8-week program that teaches the fundamentals. With this course. You'll learn the basics of fitness, while you also find out how to correctly use the various types of equipment.
You'll be then able to design your exercise program with your trainer, even while you're able to find the most effective ways to work out to achieve your fitness goals.
Afterwards, you can then go through the Strive program to learn how to combine both cardio and strength exercises effectively. By doing aerobic exercises with weight training, you can optimize your progress and avoid plateaus.
Advanced InBody Composition Analysis
It can be terribly frustrating to just focus on your weight. Your fitness is more than the number of pounds shown on a scale. With the AFF InBody Composition analysis, you get a more detailed report. You actually receive the specifics of your weight, meaning you get the percentage of the following that make up your weight:
Muscle
Fat
Bone
Water
Plasma
The analysis measures not just your weight. You also get data such as your body mass index, the lean body mass, the percentage of body fat, the total amount of water in your body, and many other facts. These facts will help you get a more accurate idea of the bigger picture.
Final Words
American Family Fitness surely knows what it's doing, as it's been around since 1988. They offer their fitness services for the entire family, with activities geared towards both adults and kids. If you live in Virginia (especially in Richmond), then you really ought to consider getting a membership here for the entire family. You get advanced training, along with age-appropriate courses for all the members of the family.
If you want to learn more information about American Family Fitness, visit their official website.
AMERICAN FAMILY FITNESS PROMO
American Family Fitness FAQ
What are benefits of American family fitness membership?
As you sign up for a plan of your choice, you become eligible for an eight-week course called AmFamU. Totally free, the course teaches members the basics of exercises and workout training. It also discusses a number of effective fitness options. Apart from the course, members of American Family Fitness are automatically given a free week pass. Those belonging to specific plans will be able to choose from a wide array of personal training routine and program options.
How much is American family fitness membership?
American Family Fitness costs begin at $39.95 a month, depending on the location of the fitness club.
How much is American family fitness annual fee?
Annual Maintenance Fee (One Person) – $49.00.