2023. Prices may vary by location and are updated frequently.
Item
Price

Monthly

One Club Access

Initiation Fee (One Person) (Monthly)
$49.99
Monthly Fee (One Person) (Monthly)
$89.99
Cancellation Fee (One Person) (Monthly)
$199.99

Annually

One Club Access

Initiation Fee (One Person) (Annually)
$49.99
Annual Fee (One Person) (Annually)
$1,079.99
Cancellation Fee (One Person) (Annually)
$199.99
Disclaimer: PriceListo gathers actual pricing information from sources such as on-site visits, business websites, and phone interviews. The prices reported on this webpage derive from one or more of those sources. Naturally, the prices reported on this website may not be current, and may not apply to all locations of a given business brand. To obtain current pricing, contact the individual business location of interest to you.
CKO Kickboxing prices provided by
PriceListo
.
About CKO Kickboxing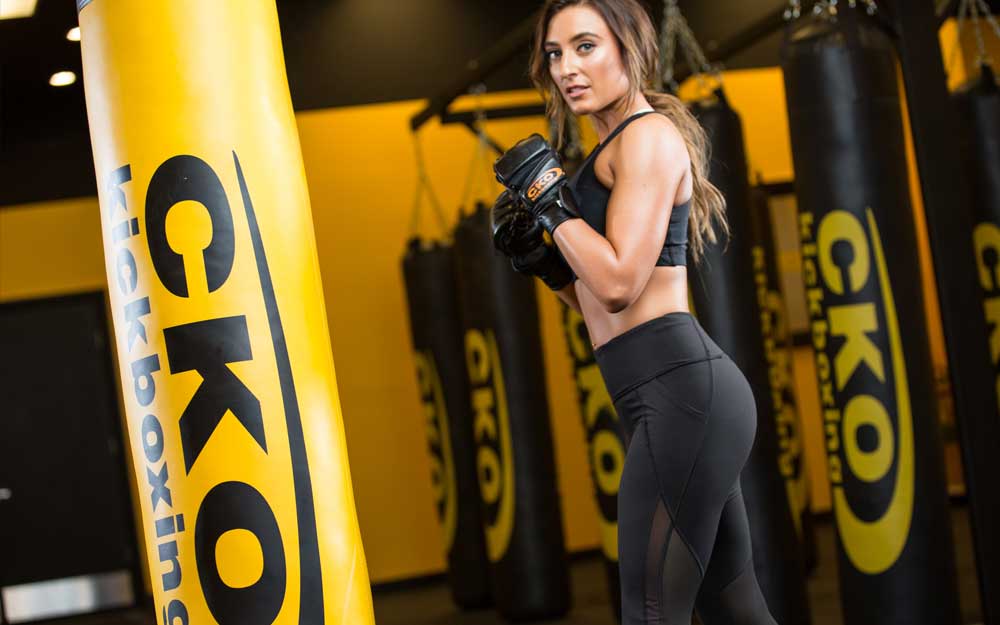 It's not surprising that kickboxing has become one of the most popular ways of getting fit. After all, you don't normally find out-of-shape martial artists in general (with the exception of sumo wrestling). Most fighters need to be fit and agile to avoid getting hit or pinned, and they need muscle to provide power for their hits.
All these are especially true for kickboxing, which uses both arms and legs for hits. You have to be really fit to excel. The good news is that if you practice a workout based on kickboxing, you generally enjoy plenty of fitness benefits.
It boosts your cardiovascular endurance, and your body becomes more efficient in taking in and using oxygen.
You enhance the muscle strength in both your upper and lower body. This is a notable difference with boxing—many boxers tend to have spindly legs.
It improves coordination and balance.
It burns a lot of calories, which helps with weight loss. Even half an hour of kickboxing training can burn off 372 calories.
It makes you more confident in yourself.
Kickboxing training improves sleep.
It enhances mental health,
All these benefits are present when you opt for membership at CKO Kickboxing.
Locations
Here are the states where you'd find a CKO Kickboxing gym, along with the number of locations available. There are at least 65 locations all in all.
California – 6
Florida – 7
Michigan – 1
Nebraska – 2
Nevada – 1
New Hampshire – 2
New Jersey – 27
New York – 15
Pennsylvania – 3
South Carolina – 1
Texas – 2
Why so many gyms in New Jersey and New York? The simple reason is that Joseph Andreula formed CKO Kickboxing in Hoboken, NJ, way back in 1997. It proved so popular over the years that 9 additional gyms went up around the NJ and NY area by 2004.
It's a famous brand that's been featured by TV shows like The Today Show along with numerous national fitness magazines.
Features
Here's a list of some things you can expect when you become a member of CKO Kickboxing:
Full-Body Workouts
Here, you focus on the entire body. That way, you're truly fit. This training is based on HIIT (high intensity interval training), which means you go full-blast for a time before you rest—and then you go again. The workouts include plyometric and calisthenic exercises, which are exciting enough that you'll never be bored.
You'll learn rhythmic moves while you exert your muscles at full blast. You'll build strength, and boost your overall muscle endurance as well.
You don't even need to bring any sort of special equipment. All you really need is a comfortable pair of sneakers or tennis shoes, along with a bottle of water and some loose, comfortable clothes that let you move around.
You can bring your own gloves if you have them, but you can also just buy them at the gym. That way, you know for sure you're using the right sort of gloves that will protect your fingers.
Instructors for Classes
The CKO Trainers are like your class teachers, teaching you what to do. They're experts at imparting knowledge, so you can use the combination of kickboxing techniques and calisthenics to get fit.
But they're also there to keep an eye to make sure everyone stays safe. When workouts involve punches and kicks, obviously safety is a major concern. They're also there to provide corrections for everyone. So that each member can optimize their workouts.
These instructors are the main reasons why even beginners should feel comfortable taking these classes. In fact, most members at CKO Kickboxing don't have any prior kickboxing experience, either. The instructors can help you learn the techniques and also tell you what to expect.
Stress Relief
This is one of the major benefits of kickboxing workouts. When you're able to hit and kick targets, it's quite appealing (regardless of how much of a pacifist you are).
It also helps that each class comes with heart-pumping music designed to make you want to move, punch, and kick. It seems like you're in the middle of your own movie training montage, like Rocky Balboa.
It isn't just about having fun, either. Stress relief is a big deal, since stress can contribute to a wide range of potential health issues. By allowing you to alleviate the tension you feel, you should also be able to sleep better at nights. That, too, will help your overall health.
Weight Loss
As we've mentioned, 30 minutes of kickboxing can help you lose about 372 calories. But CKO Kickboxing is way above average when it comes to burning off calories. A 1-hour class here can burn off as much as 1,200 calories! These workouts are simply effective at burning fat.
Again, you can be an advanced athlete or a complete newbie, and you will still benefit. You can work out at your own pace, although the instructors will be there to help motivate you. But with the excitement of the training routine, along with the energetic music, quitting will probably be an unlikely prospect.
Final Words
At CKO Kickboxing, it's not really about just you and an instructor. It's a community gym, where you can also make friends and work out together. The mutual support you get from the community will help make sure you keep at it so you can achieve your fitness goals and maintain your health.
If you want to learn more information about CKO Kickboxing, visit their official website.
CKO Kickboxing Promo
CKO Kickboxing Membership FAQ
How much is CKO membership?
On the average, memberships on a monthly basis start at $90 and can be as high as $100. The longer the duration of membership you sign up, the more savings you will be able to enjoy every month. If you want short term membership plans, many establishments offer those that last for as short as one month.
How much is CKO kickboxing per month?
Initiation Fees – $49.99 per person.
Monthly Fee (Monthly) – $89.99 per person.
What are membership benefits at CKO Kickboxing?
The most desirable benefit of CKO kickboxing is its claim that a member will be able to burn as much as a thousand calories an hour. A typical session workout of CKO kickboxing lasts a duration of one hour. However, the overall quality of exercise may still vary depending on the member's level of experience and expertise in performing the routine.