October, 2021. Prices on this site are updated each month.
American Top Team (ATT) is one of the most well-known mixed martial arts (MMA) teams in the world. With its 40,000 sq. ft. main facility in Coconut Creek, it is considered the largest MMA academy in Florida, United States. They have various facilities in Florida and in other states, such as Georgia, Texas, Kansas, and South Carolina, among others.
ATT has produced professional fighters who have been a part of major fights of big organizations, such as Strikeforce, Bellator, DREAM, K-1, PRIDE Fighting Championships, and Ultimate Fighting Championship (UFC).
Below are the latest American Top Team prices.
Item
Price

Fitness Classes

Single: One Adult

Credit card must be on file to auto-bill.

Initiation Fee (One Person)
$50.00
Monthly Fee (One Person)
$49.00
Cancellation Fee (One Person)
$0.00

Basic Membership

Single: One Adult

Member may come 2x per week in one martial arts discipline

First payment $199 – Includes your first month!

Initiation Fee (Per Person)
$0.00
Monthly Fee (Per Person) - 12 consecutive months
$125.00
Cancellation Fee (Per Person)
$0.00

Ultimate Membership

Single: One Adult

Provides unlimited access to all the martial arts classes, including fitness classes.

First payment $299 – Includes your first month!

Initiation Fee (Per Adult)
$0.00
Monthly Fee (Per Adult) - 12 consecutive months
$160.00
Cancellation Fee (Per Adult)
$0.00

Family Membership

Per Family

Provides *family unlimited access to all the martial arts classes, including fitness classes.

First payment $498 – Includes your first month!

Initiation Fee (Per Family)
$0.00
Monthly Fee (Per Family) - 12 consecutive months
$300.00
Cancellation Fee (Per Family)
$0.00

Short Term Options

Single: One Adult

Our drop-in rates are best suited for someone visiting from out of town, or staying for short stays, such as business travelers or people on vacation.

Rates include: Unlimited training* in all of the adult classes listed on our schedule. Including weights, cardio machines, and fitness classes!

Daily Fee
$25.00
Weekly Fee
$100.00
Monthly Fee
$300.00
3-Months Fee
$780.00
Disclaimer: PriceListo gathers actual pricing information from sources such as on-site visits, business websites, and phone interviews. The prices reported on this webpage derive from one or more of those sources. Naturally, the prices reported on this website may not be current, and may not apply to all locations of a given business brand. To obtain current pricing, contact the individual business location of interest to you.
American Top Team prices provided by
PriceListo
.
History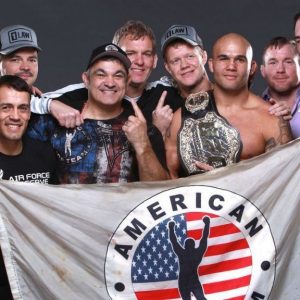 The team's origin started with Dan Lambert, a businessman and lawyer, and Conan Silveira, his instructor in MMA and Brazilian Jiu-Jitsu. It started as a passion with the two friends. They formed a team of grapplers with a similar appetite for the game, and from then on, they went to enter different competitions to show their love and dedication to the sport.
In 2001, Ricardo Liborio, a founder of Brazilian Top Team, met with Lambert and Silveira, and the idea of building a facility in South Florida was born. The goal was to create a top-flight fight gym, with Liborio forming a small group of fighters, and Lambert working on the business side and providing financial support.
With the three men at its heart, ATT grew as up-and-coming fighters from abroad traveled to the country to join the team. They added more space to their main facility and set up franchises in other states. Now, they are known as an MMA super camp that produces notable sportsmen and women, such as Colby Covington, Jose Figueroa, Wilson Gouveia, Yves Edwards, J.P. Reese, Amanda Nunes, Brad Pickett, Valerie Letourneau, and many others.
Facilities
American Top Team shows its dedication to their members and students by providing world-class facilities, such as wide mats spaces, full showers and locker rooms for men and women, dry sauna, weight-lifting area, cardio machines, plyometric equipment and training area, octagon cages, after-school program rooms, Muay Thai bags, speed and double end bags, heavy bags, and pro shops.
Programs
Some of American Top Team's regular programs include the following:
Fitness – This is for people who want to burn away calories, lose weight, tone up, boost coordination, strength, flexibility, cardio, stamina, core, and overall fitness. Students experience dynamic cross training exercises, athletic drills, and kettlebell workouts.
Basic or Family for Adults – Members are taught Brazilian Jiu-Jitsu, submission grappling, kickboxing, Muay Thai, boxing, and mixed martial arts.
Basic or Family for Kids – These are different classes for children aged to 3 to 12. They are taught Brazilian Jiu-Jitsu, kickboxing, and other forms of martial arts. The aim is to develop their fitness level, self-confidence, as well as to cultivate values on self-control, respect, and teamwork. The team's mission is to help the child members to succeed in the sport, in a safe and fun environment.
Ultimate Membership Wrestling – The camps and clinics are run by Steve Mocco, an Olympian in Freestyle Wrestling, a four-time NCAA finalist, and a 2-time NCAA Division 1 Champion.
Ultimate Membership Training Camps – Participants are trained by world champions to improve their striking skills and ground game. During the trainings, focus is also given to stamina, agility, speed, and strength. If you join a three or five-day camp, you will have trainings on conditioning, Brazilian Jiu-Jitsu, submission and grappling for MMA, boxing, Muay Thai, self-defense, and other mixed martial arts classes. You will be able to use the facility anytime during the day, participate in scheduled group classes, and for an additional fee, obtain a private session with a professional coach.
ATT students have received hundreds of awards, such as:
WEC Featherweight World Championship
UFC TUF Finale Fight of the Night
Bellator Middleweight World Championship
NAGA Grappling Championships Florida
Kids Team Champions
IBJJF Boca Open Team Champions
Membership
American Top Team prices are categorized in daily, weekly, monthly, and long-term rates. Their starting prices are $49/month per one adult and they offer different membership levels for individual needs. These include use of their weights, cardio machines, and classes listed on schedule. For more information, you can give them a call to schedule an appointment. Their professional staff will be more than happy to provide you a tour of their academy, and discuss membership options and programs available to you. Check out their locations and contact details by clicking this link.
Also check out their website for web specials. An example would be a discounted price for a week, and a free t-shirt for new students. Please also take note of the locations where they offer the discounts.
Visit ATT's website so you can find the links to their store and sponsors, where you can order online matts, such as Flexi-Connect and Swain Hybrid, as well as wall pads, post pads, accessories, and cleaning materials. They also have a link to their YouTube videos, where you can take a closer look of their gyms, trainings, and interviews of their athletes. And if you want to receive information direct to your email, sign up to their newsletter.
For more information about American Top Team, visit their official website.