October, 2021. Prices on this site are updated each month.
This gym can be best described in three words: fast, convenient, and affordable. The Blink Fitness' promise of a FEEL GOOD EXPERIENCE is what makes them stand out among others.
They believe that exercise is not just about looking good, but also about how it makes their clients feel. What's great about Blink Fitness Gyms is that they stay true to their promise of a feel good experience with their clean facilities, modern and state of the art machines, as well as friendly and welcoming staff. They currently have almost 60 locations all over the United States, including those which are opening soon.
Below are the latest Blink Fitness prices.
Item
Price

Monthly Memberships

Blue (90+ Locations)

Per Person with 12-Month Commitment

Annual Maintenance Fee (Blue)
$54.99
Monthly Fee (Blue)
$23.00
Cancellation Fee (Blue)
$0.00

Gray (Single Gym Access)

Per Person with No Commitment

Annual Maintenance Fee (Gray)
$54.99
Monthly Fee (Gray)
$15.00
Cancellation Fee (Gray)
$0.00

Orange (Single Gym Access)

Per Person with No Commitment

Annual Maintenance Fee (Orange)
$54.99
Monthly Fee (Orange)
$10.00
Cancellation Fee (Orange)
$0.00
Disclaimer: PriceListo gathers actual pricing information from sources such as on-site visits, business websites, and phone interviews. The prices reported on this webpage derive from one or more of those sources. Naturally, the prices reported on this website may not be current, and may not apply to all locations of a given business brand. To obtain current pricing, contact the individual business location of interest to you.
Blink Fitness prices provided by
PriceListo
.
History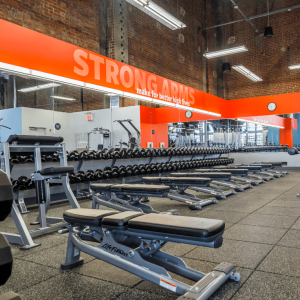 Blink Fitness was founded in January 2011 when it opened its first gyms in Noho, Paramus, and Yonkers. Since then, it has rapidly expanded into neighborhoods and suburbs such as in Queens, Parkchester in the Bronx, and Flatbush, Brooklyn which can be considered under-served when it comes to fitness options.
Blink Fitness is owned by the Equinox Fitness, which is a luxury fitness chain with its headquarters in New York. Equinox Fitness is on top of the leader board in the fitness world and it can be attributed to its great gym facilities and elite clientele. Unlike its mother company, Blink Fitness aims to make gym memberships affordable at markets itself as a "no frills attached" gym.
Benefits for Members
If you sign up as a member of Blink Fitness, your access and benefits may vary depending on the type of your membership. But regardless of the type of membership that you have, once you are a member, you can have access to the feel good experience that the gym promises. The gym facilities are brightly lit and there are also a lot of open spaces so you will have plenty of room to move and breathe without feeling suffocated.
The locker rooms and workout areas are always clean and spotless, thanks to the gym's Everyone Cleans philosophy. As an added benefit, all membership types also get to have a free startup session with one of the gym's certified personal trainers.
Membership Types
There are three types of membership at Blink Fitness and these are Gray, Blue, and Green membership. Gray membership gives you access to a single gym of your choice; Blue membership gives you select location access; while Green membership gives you access to all gym locations. Both Blue and Green memberships allow unlimited guest privileges which means you can bring one guest with you every time you go to the gym.
Membership Fees
The membership fees, as indicated in the earlier part, vary depending on the membership type. There is also an annual maintenance fee, which is charged on the third day of the third month after joining and each subsequent anniversary of this date. The annual maintenance fee is used to maintain the gym equipment and ensure the freshness and cleanliness of all gym locations.
For more information about membership and how you can avail of the free trial, please visit the official website.