Oct, 2023. Prices may vary by location and are updated frequently.
Item
Price

Monthly Memberships

Blue (90+ Locations)

Per Person with 12-Month Commitment

Annual Maintenance Fee (Blue)
$54.99
Monthly Fee (Blue)
$23.00
Cancellation Fee (Blue)
$0.00

Gray (Single Gym Access)

Per Person with No Commitment

Annual Maintenance Fee (Gray)
$54.99
Monthly Fee (Gray)
$15.00
Cancellation Fee (Gray)
$0.00

Orange (Single Gym Access)

Per Person with No Commitment

Annual Maintenance Fee (Orange)
$54.99
Monthly Fee (Orange)
$10.00
Cancellation Fee (Orange)
$0.00
Disclaimer: PriceListo gathers actual pricing information from sources such as on-site visits, business websites, and phone interviews. The prices reported on this webpage derive from one or more of those sources. Naturally, the prices reported on this website may not be current, and may not apply to all locations of a given business brand. To obtain current pricing, contact the individual business location of interest to you.
Blink Fitness prices provided by
PriceListo
.
About Blink Fitness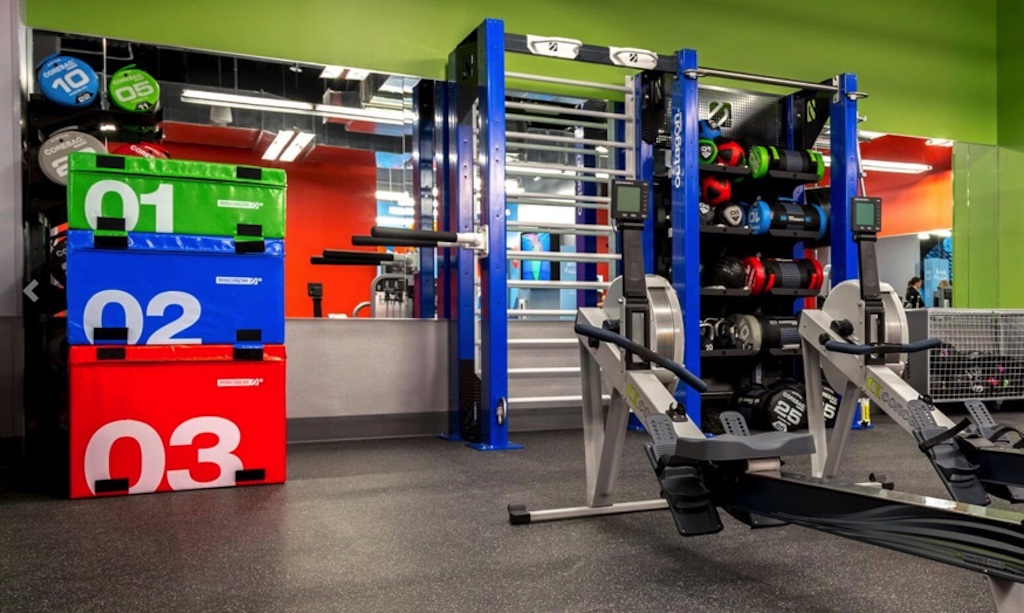 It can be a bit intimidating to enter a typical gym to work out in. Most gyms seem a bit too cold and competitive, which may appeal to veteran athletes. But for many newbies, it's not exactly encouraging.
But it's different with Blink Fitness gyms. True, each location is different. You'll find a slightly different vibe in a New York gym than the one in Texas or California. But there's a comfortable sameness nonetheless. Whichever Blink Fitness gym you enter, it will subscribe to the brand's Mind Over Muscle mantra.
What does that mean? At Blink Fitness, they acknowledge how getting fit makes people feel better. So, they accelerate that "feel good" vibe right off. Every gym feels warm and inviting, so that you always feel comfortable coming in and working out. You'll already feel good when you start your fitness journey.
This place isn't just for veteran exercisers who know what they're doing. It's also for newbies who have absolutely no idea of how to go about doing their workouts. It won't take long for beginners to know what to do.
Cleanliness Concerns
This has long been one of the main aspects of the Blink formula. Every gym is scrupulously clean, and they've held this standard way before the pandemic ever began.
Their philosophy is that "Everybody cleans", so the gym locker rooms are always spacious and spotless. The gym showers are stocked with body wash and shampoo.
Obviously, they still maintain their strict cleanliness standards. In fact, they've become better. The new standards now require members to get properly vaccinated first, before they can enter the premises. And inside, they use EPA-registered disinfectants that are proven to work well against the Covid-19 virus.
Locations
Right now, there are 108 Blink Fitness gym spread out across 9 states. Here are the states where you can find the gyms, along with the number of Blink Fitness gyms available in that state:
California – 8
Florida – 2
Illinois – 6
Massachusetts – 2
New Jersey – 16
New York – 63
Pennsylvania – 3
Texas – 7
Virginia – 1
Equipment
You'll find that every Blink Fitness gym will have a sufficiently wide range of equipment for you to use. The precise equipment availability will be different for each location, but a typical gym will have the following:
You'll find at least 80 pieces of cardio equipment, most of them among the best and newest machines. These will generally include stationary bikes, treadmills, ellipticals, and several other types.
There will also be a wide range of high-tech strength training equipment. These will include squat racks, power racks, and Olympic benches. Typically, you'll find about 40 pairs of dumbbells, with weights up to 90 pounds.
There's also a terrific stretch area that can be used for many purposes, including bodyweight circuit training and HIIT. Additional equipment will include TRX, Plyo boxes, resistance bands, foam rollers, stability balls, Bosu balls, medicine balls, kettlebells, and battle ropes.
Free Wi-Fi should be available as well. That way, you can access the Blink Fitness app too. Or you can use Spotify for some appropriate workout music. In fact, Blink Fitness even has recommended playlists.
The Blink Fitness App
Access to the app will depend on what kind of membership you get. Some types of memberships offer unlimited access, and you'll certainly want that when you realize just how much content you're getting through the app.
The app can let you schedule your workouts, and also arrange for some personal training. But the app itself can function as your own virtual trainer.
It can help you customize your workout to make sure you achieve your fitness goal. A workout for weight loss is generally different from a workout designed to build bigger muscles.
This will let you access more than 500 different classes.
The demo videos can show you how to do the various exercises correctly. Videos are more effective at this than text, obviously.
You can get various tips that will make exercises and workouts more effective (or even just more enjoyable).
The app lets you track your progress, and that will let you customize your workouts even more effectively.
Recipes are also available from partners like Good Eats, Aaptiv, and Sworkit.
Personal Training
Everyone who becomes a member automatically gets a free half-hour consult with an expert trainer. That's enough time to determine what kind of workout you'll need to achieve your fitness goals. The trainer will help you build your weekly schedule of exercises, and help you to become more familiar with the equipment you'll use.
Of course, you can also take advantage of personal trainers afterwards. These experts can guide you through your workouts, point out mistakes (so you don't do them again), and help motivate you. They can provide their assistance in person, or through online such as through Facebook.
Final Words
Plenty of members appreciate what Blink Fitness is all about. The brand preaches body positivity and warm inclusivity, offering fitness for everyone. Everyone feels comfortable here, regardless of how old they are or what their size is. It's very refreshing, and that feel-good body-positive vibe will simply make you want to work out. It's friendly rather than intimidatingly competitive.
The membership options are super-affordable, yet you enjoy premium equipment and expert instruction. All in all, it's money well-spent. Try Blink Fitness, and you'll understand how so many people enjoy working out at these gyms.
For more information about membership and how you can avail of the free trial, please visit the official website.
Blink Fitness Promo
Blink Fitness FAQ
What are Blink fitness benefits for members?
The gym facilities are brightly lit and there are also a lot of open spaces so you will have plenty of room to move and breathe without feeling suffocated.
The locker rooms and workout areas are always clean and spotless, thanks to the gym's Everyone Cleans philosophy. As an added benefit, all membership types also get to have a free startup session with one of the gym's certified personal trainers.
How much is Blink membership?
Monthly Fee (Orange) – $10 per person.
Monthly Fee (Gray) – $15 per person.
Monthly Fee (Blue) – $23 per person.
How much is Blink annual fee?
Annual Maintenance Fee – $54.99 per person.