Oct, 2023. Prices may vary by location and are updated frequently.
Item
Price

Membership Levels

Club

Multi Club Access

Initiation Fee (One Person) (Club)
$0.00
Monthly Fee (One Person) (Club)
$22.99
Cancellation Fee (One Person) (Club)
$0.00

Premium

Multi Club Access

Initiation Fee (One Person) (Premium)
$0.00
Monthly Fee (One Person) (Premium)
$29.99
Cancellation Fee (One Person) (Premium)
$0.00

Platinum

Multi Club Access

Initiation Fee (One Person) (Platinum)
$0.00
Monthly Fee (One Person) (Platinum)
$39.99
Cancellation Fee (One Person) (Platinum)
$0.00

Best Value

Multi Club Access

Platinum + 3 Training Sessions For $99 + First Month Free + Free Boxing Gloves

Initiation Fee (One Person) (Best Value)
$0.00
Monthly Fee (One Person) (Best Value)
$39.99
Cancellation Fee (One Person (Best Value)
$0.00
Disclaimer: PriceListo gathers actual pricing information from sources such as on-site visits, business websites, and phone interviews. The prices reported on this webpage derive from one or more of those sources. Naturally, the prices reported on this website may not be current, and may not apply to all locations of a given business brand. To obtain current pricing, contact the individual business location of interest to you.
Club Fitness prices provided by
PriceListo
.
About Club Fitness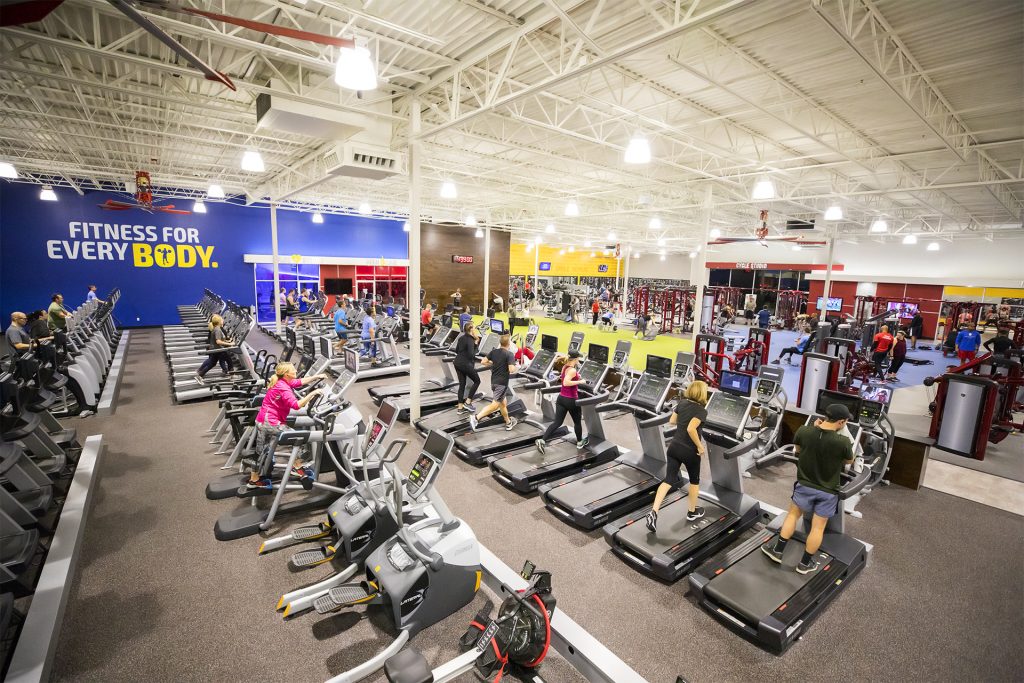 Club Fitness doesn't have a flashy name, but then again, it doesn't have to. After all, its mission is quite simple. They're there to serve their community, offering their gyms to just about everyone. They've been around for more than 35 years now, and they've helped thousands of people achieve their fitness goals.
It's really that simple.
Locations
Their main focus has always been St. Louis, since the founders were from St. Louis. But over the years, they've expanded somewhat to serve more locations in Missouri, and they even have gyms in nearby Illinois as well.
You can find gyms in these cities:
Missouri
Afton
Arnold
Ellisville
Fenton
Florissant
Hampton
Lemay Ferry
Maplewood
O'Fallon K&N and O'Fallon North
Charles
Peters
Wentzville
Illinois
Belleville
Collinsville
East Alton
Granite City
O'Fallon
The Les Mills Classes
Here are just some of the classes you can participate in to help you get as fit as you need:
Les Mills BODYATTACK. This is a sports-inspired workout that gives you a high-energy athletic training.
Les Mills BODYCOMBAT. It may be inspired by the martial arts, but this workout doesn't involve any contact. Still, you punch and kick towards fitness (and to relieve some tension too).
Les Mills BODYPUMP. This is an efficient barbell class that can really get you the lean, toned muscles you want.
Les Mills Core. Based on scientific principles, the athletic training here boosts your core muscles to improve your strength, endurance, and stability.
Les Mills RPM. This premium indoor cycling class set to high-energy music will have you burning calories for weight loss and great cardio health.
Les Mills SPRINT. It's a type of HIIT workout that involves indoor cycling.
Les Mills Tone. The focus is on core strength and resistance training, with great choreography.
Other Classes
Just in case you think that the classes are all only from Les Mills, check out the many other options available:
Cardio. This works even for beginners, as you'll use numerous techniques (including lifting weights) to get your heart rate pumping while burning off fat.
Core. There are actually quite a few classes here that target your core muscles.
Even newbies can benefit from this type of training. With the indoor bikes, you'll boost your endurance, enhance your muscles in the core and legs, and also burn lots of calories.
Dance. Plenty of people love these classes, since they don't really seem like workouts. They're just so much fun. The dance styles available include modern dance and hip-hop, along with jazz, tap dancing, and ballroom dancing.
HIIT. This is the high-intensity interval training, which involves full-blast efforts followed by periods of rest. Here at Club Fitness, you'll use resistance bands and light hand weights along with your body weight, plus step.
Intervals. These classes incorporate many types of training, with HIIT combined with other exercises.
Kickboxing. This is a great way to keep fit while you're relieving tension and gaining confidence in yourself. The total body workouts develop your muscles even as you burn lots of fat.
MixxedFit. This is a type of dance workout that can benefit both newbies and veterans. You'll tone your body, while having lots of fun along the way.
Pilates. This will strengthen your muscles even as it improves your posture and flexibility. It uses low-impact exercises along with special breathing techniques.
Piloga. It combines Pilates with yoga, hence its name. It focuses on your core while it also improves your balance.
PiYo. It's another combination of Pilates with yoga, this time set to music for a highly energetic full-body workout.
Silver Sneakers. Designed for the seniors, it involves group exercises with aerobics and weight training. It's so helpful that many Medicare Advantage plans cover these classes.
Spinning. This is a specialized cycling class for greater cardio health and enhanced muscular endurance.
Step. It's similar to a cardio class, but it uses the step to improve your balance and coordination, even as you burn off calories.
Strength. It's a total-body workout for great muscular strength and endurance.
Strong Nation. This is a type of HIIT workout, using boot camp choreography to slowly increase the intensity.
Tabata. It's another challenging type of HIIT workout, with weights.
Toning. This combines exercises for core, resistance, and cardio for both aerobic and strength conditioning.
Turbo Kick. You use sports-specific moves with high-paced training combos.
Vinyasa. A version of yoga with specialized postures and moves along with specific breathing techniques.
Yoga. The freestyle class to enhance focus, endurance, and strength.
Zumba. It combines high-intensity bursts with low-intensity movies, with a dance party atmosphere.
Amenities
More than 400 classes per week
6 unique fitness studios
Advanced equipment for strength and cardio training
Hydro massage, sauna, and tanning salons
Expert personal training
Chef-crafted take-home meals with protein smoothies available
Kids club for ages 2 to 12 years old
Final Word
Club Fitness isn't as simplistic as it seems, you might have realized. It basically offers just about every type of workout there is. That way, you're never bored as you try various ways to lose weight, gain muscle, and maintain cardio health.
It's amazing how much you get, considering how very little you really pay. This is the type of accessibility that plenty of people want—or even need. Everyone can achieve their fitness goals. The main drawback here is that if you don't live in Missouri or Illinois, you're going to have to go somewhere else!
For more information about Club Fitness, visit their official website.
Club Fitness Promo
Club Fitness FAQ
How much is Club Fitness?
Monthly Fee (One Person) (Club) – $22.99
Monthly Fee (One Person) (Premium) – $29.99
Monthly Fee (One Person) (Platinum) – $39.99
Monthly Fee (One Person) (Best Value) – $39.99
What Are The Classes That You Can Find In Club Fitness?
Each club has its own class schedules. They vary per day and per hour. Each class usually lasts for an hour, and is taught by different fitness instructors.
What are Club fitness benefits?
Club Fitness wants to help its members realize that getting fit is for everyone. This is why they make sure that they have a welcoming and a sparkling clean environment. They want to motivate and educate their members that working can be really enjoyable and that it doesn't have to be expensive. Their staffs and trainers will be there to help you become successful in achieving the body type that you have been wanting to get.