Dec, 2023. Prices may vary by location and are updated frequently.
Item
Price

The Little Gym Seasonal Prices 40 Full Weeks

The Little Gym Annual Membership Fees $35 – $50

One Kid Prices

10 PAY Monthly
$76.00
4 PAY Quarterly
$190.00
2 PAY Divided into 2 Payments
$361.00
PAY IN FULL for 40 Weeks
$722.00
Disclaimer: PriceListo gathers actual pricing information from sources such as on-site visits, business websites, and phone interviews. The prices reported on this webpage derive from one or more of those sources. Naturally, the prices reported on this website may not be current, and may not apply to all locations of a given business brand. To obtain current pricing, contact the individual business location of interest to you.
The Little Gym prices provided by
PriceListo
.
About The Little Gym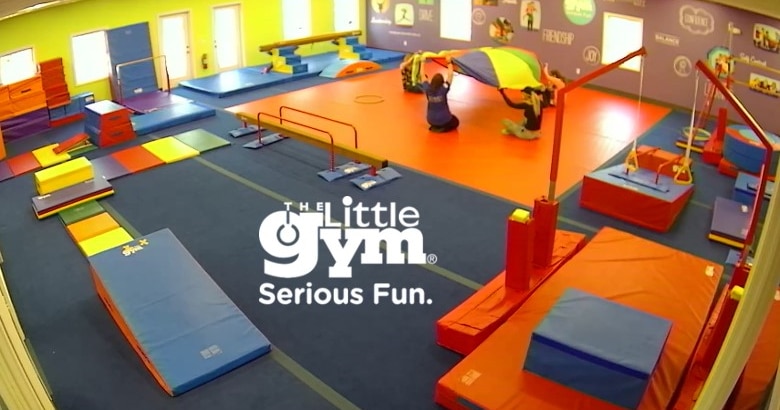 When it comes to your child's active and healthy lifestyle, The Little Gym might be the perfect fit. Let's explore every aspect of The Little Gym, including The Little Gym prices, amenities, benefits, operating hours and so much more. Find out how it can benefit your child's growth and development.
The Little Gym: A Brief Introduction
The Little Gym is not just your typical gym. It's a place where children can learn, grow, and build the skills they need to lead a healthy, active, and fulfilling life. The gym's mission is to inspire kids to dream big and provide them with a safe and nurturing environment to explore their potential. The Little Gym offers a range of classes and programs that cater to children from four months to 12 years old.
The Little Gym was founded in 1976 by Robin Wes, an educator, musician, and kinesiologist. His vision was to create a space where children could develop physically, emotionally, and cognitively in a fun and non-competitive environment. What started as a single gym in Bellevue, Washington, has now grown into an international franchise with hundreds of locations worldwide.
The Little Gym Classes
One of the key features that set The Little Gym apart is its diverse range of classes that focus on different age groups and developmental stages. Here's an overview of the classes offered:
1. Parent/Child Classes
Birds (4 months to 10 months)
Beasts (10 months to 19 months)
Super Beasts (19 months to 2.5 years)
2. Preschool and Kindergarten Classes
Funny Bugs (3 years to 4 years)
Giggle Worms (4 years to 5 years)
Good Friends (4 years to 6 years)
3. Grade School Gymnastics Classes
Grade School Gymnastics (6 years to 12 years)
The Little Gym Membership Cost and Pricing
Pricing at The Little Gym can vary depending on factors like location and class duration. Here's an approximate price range to give you an idea:
Parent/Child Classes: $65 to $100 per month
Preschool and Kindergarten Classes: $85 to $130 per month
Grade School Gymnastics Classes: $100 to $150 per month
It's essential to check with your local The Little Gym for precise pricing and any ongoing promotions or discounts.
How Much is The Little Gym Per Session?
The cost of sessions at The Little Gym can vary depending on several factors, including the location of the gym, the type of class, and the frequency of attendance. It's important to note that The Little Gym offers a variety of programs designed to cater to different age groups and interests. Typically, you can expect the following:
Parent/Child Classes: These are usually the most affordable option and can range from $20 to $30 per class.
Preschool and Grade School Classes: For older children, the cost per session can range from $20 to $35.
Multi-Class Packages: Many gyms offer multi-class packages or memberships, which can provide savings over paying per class. These packages may cost anywhere from $150 to $300 per month, depending on the number of classes and duration.
Seasonal Camps and Special Events: The Little Gym often hosts seasonal camps and special events, and the prices for these programs can vary. It's a good idea to check with your local gym for specific pricing details.
Please keep in mind that these are approximate costs, and actual prices may differ between locations. Additionally, The Little Gym might offer sibling discounts, and some locations could have introductory specials or promotions.
The Little Gym Hours
The operating hours of The Little Gym centers may vary by location. Most centers offer classes during weekday mornings, afternoons, and weekends to accommodate different schedules. The best way to find the hours of a specific gym is by visiting The Little Gym's official website and locating the nearest center.
The Little Gym Amenities
The Little Gym facilities are designed to provide a safe and engaging environment for children. Some common amenities you can expect to find include:
Gymnastics equipment: Bars, beams, vaults, and more to facilitate physical development.
Soft play areas: Cushioned spaces for kids to play and learn.
Parent viewing areas: Spaces where parents can observe their child's progress.
Restrooms and changing facilities: Ensuring comfort and convenience for all attendees.
Benefits of The Little Gym
The Little Gym offers a range of benefits for children and parents alike:
1. Skill Development:
Improves balance, coordination, and motor skills.
Enhances cognitive development through problem-solving activities.
Fosters social and emotional growth by promoting teamwork and communication.
2. Physical Activity:
Encourages a love for physical activity from a young age.
Provides a safe and structured environment for exercise.
Helps combat childhood obesity by promoting an active lifestyle.
3. Confidence Building:
Praise and positive reinforcement boost children's self-esteem.
Encourages children to set and achieve goals.
Overcoming challenges in class leads to increased self-confidence.
4. Social Interaction:
Promotes social skills by interacting with peers.
Creates a sense of community among children and parents.
Encourages teamwork and cooperation.
5. Convenient Scheduling:
Offers flexible class schedules to fit various routines.
Classes are available for different age groups, ensuring age-appropriate activities.
Parent and child classes allow for bonding time while learning.
Activities for Kids at The Little Gym
The Little Gym isn't just a place for structured classes; it's also a hub for various activities designed to engage and entertain children. These activities are perfect for developing skills, promoting creativity, and providing kids with an opportunity to socialize in a supportive environment. Here are some of the exciting activities your child can enjoy at The Little Gym:
1. Themed Learning Adventures
The Little Gym offers themed learning adventures that take children on imaginative journeys. These adventures include storytelling, games, and physical activities all centered around a particular theme, making learning a fun and interactive experience.
2. Serious Fun Camps
Throughout the year, The Little Gym organizes Serious Fun Camps, where kids can enjoy extended periods of exciting activities. These camps provide a blend of gymnastics, arts and crafts, games, and more, giving children a well-rounded experience that helps them stay active and engaged during school breaks.
3. Parent's Survival Night
The Parent's Survival Night program at The Little Gym is a lifesaver for parents. It's an opportunity to enjoy a well-deserved night out while your kids have a blast at the gym. Kids engage in fun games, themed activities, and even a pizza dinner, all under the supervision of trained instructors.
4. Awesome Birthday Parties
The Little Gym is a great place to host an awesome birthday party for your child. They provide a fantastic setup, complete with fun activities and games, ensuring a memorable celebration for your little one. Parents can relax and enjoy the party while the gym's staff takes care of all the entertainment.
5. Seasonal Events and Promotions
The Little Gym frequently hosts seasonal events and promotions, such as holiday parties, summer adventures, and special classes. These events offer a chance for kids to experience something new and exciting while spending time with their friends.
6. Creative Expression through Dance and Movement
In addition to gymnastics, The Little Gym also provides classes that focus on dance and creative movement. These classes give children the opportunity to express themselves through dance, rhythm, and imaginative play, fostering creativity and coordination.
7. Music and Rhythmic Activities
Music plays a significant role at The Little Gym, with classes designed to introduce kids to rhythm, melodies, and musical concepts. Children can explore different instruments, dance to music, and participate in fun musical games, all while developing a love for music.
Age Requirement at The Little Gym
The Little Gym is dedicated to providing a safe and enriching environment for children to learn, grow, and have fun. To ensure the best experience for both parents and their little ones, The Little Gym has specific age requirements for its programs and classes. These requirements help tailor activities to the developmental needs of children at different stages of their early years.
Here are the typical age categories and their associated programs at The Little Gym:
1. Parent/Child Classes (Ages 4 Months – 3 Years)
For the youngest learners, The Little Gym offers parent/child classes designed for infants and toddlers. These classes emphasize the importance of parent-child interaction and bonding. Babies as young as 4 months old can participate, with a caregiver present. These classes focus on sensory exploration, motor skill development, and socialization.
2. Pre-K and Grade School Classes (Ages 3 – 12 Years)
The Little Gym's main classes are structured for children between the ages of 3 and 12. These classes are divided into specific age groups to ensure age-appropriate activities and skill development. Classes are designed for 3-year-olds, 4-5-year-olds, 6-12-year-olds, and more, with varying levels of skill and experience in mind.
3. Parent's Survival Night (Ages 3 – 12 Years)
Parent's Survival Night is open to children aged 3 to 12. It's a fantastic opportunity for parents to enjoy an evening out while their kids participate in themed activities and games at The Little Gym. These nights are typically scheduled once a month and offer a fun and safe environment for kids to enjoy.
4. Serious Fun Camps (Ages 3 – 12 Years)
Serious Fun Camps are perfect for children between the ages of 3 and 12. These camps are held during school breaks, offering kids a chance to stay active, make friends, and engage in a variety of activities during their time off from school.
The Little Gym Free Trial
Getting started with a new program for your child can be a big decision, and The Little Gym understands the importance of trying things out before making a commitment. While The Little Gym may not offer traditional free trials, many locations provide introductory classes or open houses where you and your child can experience what they have to offer. These introductory sessions give you the opportunity to explore the facility, meet the instructors, and let your child participate in a class to see if it's a good fit for them. It's a wonderful way to get a taste of the fun, active, and educational experiences The Little Gym provides. To find out if your local The Little Gym offers an introductory session, check their website or get in touch with them directly.
The Little Gym Cancellation Policy
The Little Gym typically requires a notice period for cancellations or withdrawals. Policies may vary from one location to another, so it's crucial to review the specific terms and conditions at your chosen gym. Generally, The Little Gym advises giving at least a month's notice before canceling a membership to avoid additional charges.
Is The Little Gym Right for Your Child?
The Little Gym's focus on skill development, physical activity, and emotional growth makes it an excellent choice for many children. It is particularly well-suited for kids who enjoy active, structured play and parents looking for an inclusive and supportive community.
Whether your child is a toddler or a pre-teen, The Little Gym offers programs tailored to various age groups and skill levels. The benefits of enrollment extend beyond physical fitness, fostering cognitive and social development in a positive and motivating environment.
In conclusion, The Little Gym provides a unique and enriching experience for children's physical, emotional, and cognitive growth. As a parent, choosing The Little Gym could be a proactive step toward helping your child lead a healthy, active life while building essential life skills and forming meaningful connections within a supportive community.
With its focus on skill development, physical activity, confidence building, and social interaction, The Little Gym is a wonderful place for children to thrive. Explore The Little Gym's offerings and discover how your child can benefit from its diverse programs and engaging activities.
Whether your child is a toddler, preschooler, or grade-schooler, there's a class designed to meet their needs and encourage their development. Enroll your child in The Little Gym today and witness their growth, both physically and emotionally, in a supportive and nurturing environment.
For more information about The Little Gym, visit their official website.
Little Gym Promo