2023. Prices may vary by location and are updated frequently.
Item
Price

The Little Gym Seasonal Prices 40 Full Weeks

The Little Gym Annual Membership Fees $35 – $50

One Kid Prices

10 PAY Monthly
$76.00
4 PAY Quarterly
$190.00
2 PAY Divided into 2 Payments
$361.00
PAY IN FULL for 40 Weeks
$722.00
Disclaimer: PriceListo gathers actual pricing information from sources such as on-site visits, business websites, and phone interviews. The prices reported on this webpage derive from one or more of those sources. Naturally, the prices reported on this website may not be current, and may not apply to all locations of a given business brand. To obtain current pricing, contact the individual business location of interest to you.
The Little Gym prices provided by
PriceListo
.
About The Little Gym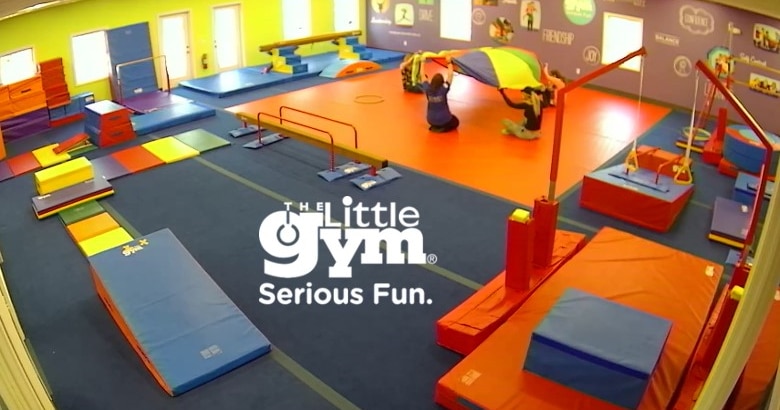 The Little Gym might be the best alternative to a day care center for parents who take fitness seriously. Other gyms and fitness clubs have child care centers, or spaces dubbed as a children's play room of sorts, but none come close to The Little Gym's massive focus on child fitness.
COVID doesn't discriminate, and younger individuals are more prone to developing complications due to an immature immune system. That's why The Little Gym initially closed several of its locations to reduce the risk of children acquiring the coronavirus.
However, that doesn't mean they didn't innovate. As a business, The Little Gym will aim to provide the best service they can to both parents and its younger customers by following government mandates. And this includes scientifically-proven methods that reduce virus transmission.
Becoming a member of The Little Gym has multitudes of benefits for both the young fitness enthusiast and the parents. Here are some of the safety measures they've implemented to make sure things at The Little Gym are safe for everyone.
Disinfection Protocols
The Little Gym is practically doing the same things as other gyms when it comes to cleaning and disinfection procedures. The Little Gym outlets disinfect classrooms every after session to make sure all surfaces are free from bacteria and other nasty microorganisms.
The Little Gym's famous big red mat is disinfected every after class to make sure the risk of transmission for any kind of disease is low. Same goes for the multipurpose room at every end of the activity.
As children, they will spend lots of time potty training (those under potty training age), so one of the areas considered as a high-touch point is the bathrooms. The Little Gym staff disinfects this area regularly.
In addition to frequent cleaning, the staff are also given instructions regarding mask use and physical distancing. For all other activities not requiring intensive oxygen intake, The Little Gym staff will have their mask on to protect themselves and their clients.
It's also good to teach children some basic hygiene skills that's why a hand washing routine is in place. All youngsters will perform hand washing or sanitizing prior and after a group activity.
For children younger than 5 years old, this is a must since most children are in their oral stage of development, and hand-to-mouth activity is quite common.
Speaking of hand-to-mouth activities, parents are highly encouraged to bring their children's own clearly-labeled water containers. This is to reduce the risk of cross-contamination via saliva.
Controlling Overcrowding
To control overcrowding, especially against parents who like to stay in hallways or waiting rooms, The Little Gym is highly encouraging parents and guardians to spend as little time as possible in the entryway of the facility.
This means they're given a maximum waiting time of fifteen minutes prior to class start. Unless they intend to accompany their children for the entire duration of the class, they are allowed to do so.
Some of these hygiene and disinfection protocols will vary by location. Most of the COVID policies listed here are based off of The Little Gym in Springfield, Illinois.
Virtual Fitness Classes
One of the early steps taken by The Little Gym is to implement video classes. The video classes are a form of social distancing, and with less crowding, it's guaranteed to give young ones the training they need while they stay in the safety of their houses.
Guest Pass Information
The Little Gym's "Bring A Friend Special" is their guest pass. However, this is a limited-time offer; Parents who follow The Little Gym's social media pages can get updates of this offer.
The existing member gets a $20 gift certificate for use in The Little Gym, and their friend who enrolls in the class they attended with them on the same day will get one free annual family membership. Classes fill up very quickly, so it's always a good idea to book in advance.
It's worth noting that the "Bring A Friend Special" will need a guardian's signed waiver. If this requirement is not met, the friend will not be able to attend the classes, or proceed to the next step of becoming a The Little Gym member.
The waivers come in both physical and electronic forms, so even if the friend's guardian isn't physically present, it's still possible to avail of the promotion as long as the waiver is signed.
In addition to the guest pass, The Little Gym also offers free classes twice a month. This only applies to current members of The Little Gym. Each The Little Gym may have different policies regarding free classes for existing members, so new customers should ask this from the studio directly.
For more information about The Little Gym, visit their official website.
Little Gym Promo
Little Gym FAQ
How much is Little Gym membership?
10 PAY Monthly – $76 per child.
How much are Little Gym annual membership fees?
The Little Gym Annual Membership Fees $35 – $50
How much is 40 weeks for Little Gym membership?
PAY IN FULL for 40 Weeks – $722.00