2023. Prices may vary by location and are updated frequently.
Item
Price

Monthly Memberships

Basic (4 Sessions Per Month)

Initiation Fee (One Person) (Basic)
$0.00
Monthly Fee (One Person) (Basic)
$59.00
Cancellation Fee (One Person) (Basic)
$0.00

Elite (8 Sessions Per Month)

Initiation Fee (One Person) (Elite)
$0.00
Monthly Fee (One Person) (Elite)
$99.00
Cancellation Fee (One Person) (Elite)
$0.00

Premier (Unlimited Sessions)

Initiation Fee (One Person) (Premier)
$0.00
Monthly Fee (One Person) (Premier)
$159.00
Cancellation Fee (One Person) (Premier)
$0.00

Additional Session

Additional Session (Extra)
$18.00

Session Packages

Packages are good for a full year from date of purchase.

10 Sessions
$199.00
20 Sessions
$359.00
30 Sessions
$499.00

Drop In Rate

1 Session
$28.00
Disclaimer: PriceListo gathers actual pricing information from sources such as on-site visits, business websites, and phone interviews. The prices reported on this webpage derive from one or more of those sources. Naturally, the prices reported on this website may not be current, and may not apply to all locations of a given business brand. To obtain current pricing, contact the individual business location of interest to you.
Orange Theory Fitness prices provided by
PriceListo
.
About Orangetheory Fitness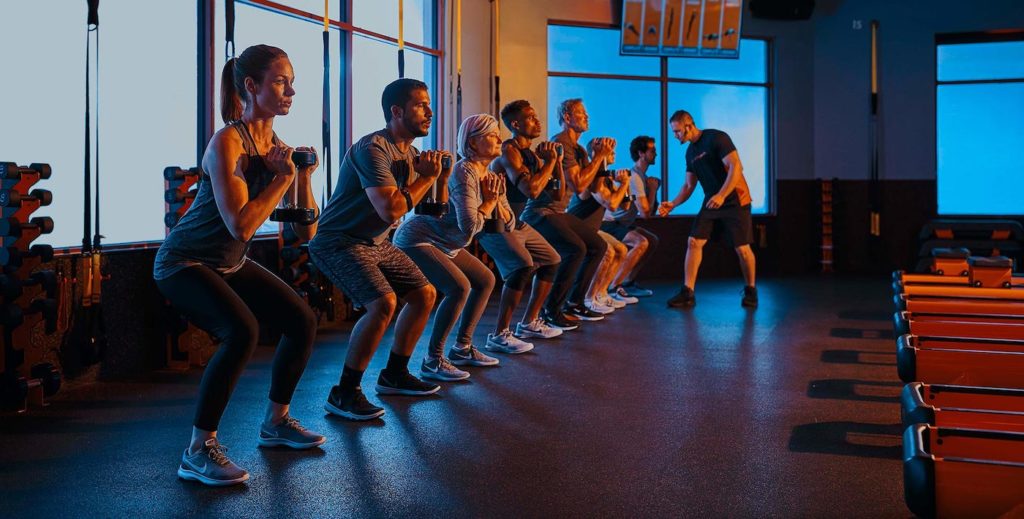 Orangetheory Fitness is a fitness franchise that has over 1300 locations across the United States. Orangetheory Fitness' first location was in Fort Lauderdale, Florida, and then grew to become one of the most successful fitness franchises in the US. At the end of its first decade of operation, it had over 1 million members, and is still growing in 2022.
Orangetheory Fitness is somewhat similar to CrossFit, however, the latter doesn't give emphasis on heart rate monitoring. In HIIT, the heart rate is a strong indicator of how well into an exercise a person is. The higher the heart rate, the better the workout is.*
*Individuals should always consult with a physician as certain cardiac conditions have symptoms under the guise of an increased heart rate.
How to Join Orangetheory Fitness
Orangetheory Fitness works via bulk class purchase or monthly memberships. Customers can visit Orangetheory Fitness' website and click the "Joining" button, where they will see a more detailed comparison of the membership tiers. Orangetheory Fitness currently has Premier, Elite, and Basic tiers. They also offer bulk class purchases in 10, 20, or 30.
The website encourages visitors to sign up via their free class option, which basically acts as the guest pass. Customers can fill out this form with their name, contact details, and location, then they simply have to wait for a representative from Orangetheory Fitness to give them the next steps on how to join.
Once a customer becomes a member of Orangetheory Fitness, they can have nationwide studio access. This means members can go to any Orangetheory Fitness location as if they're visiting their base OTF location.
Why Join Orangetheory Fitness
There's a lot of good reasons why one should invest in health and fitness, and more reasons why to sign up to Orangetheory Fitness. Here are few of the many perks waiting for OTF members.
Personal Training
Orangetheory Fitness makes sure that each individual knows the correct form of their exercise. For the most part, members will be wearing heart rate monitors so they have a visual of how hard they're doing the workouts, but to raise their heart rates at this level, they need to perform the correct exercises.
Trainers also provide relevant training guides for people with orthopedic limitations. Even though Orangetheory Fitness is a 3-step training routine, its coaches have flexible training programs to help members reach the orange and red zones that are a core-part of the brand.
Orangetheory Fitness has competitive and knowledgeable coaches that guide members and correct their mistakes when they perform an exercise.
Short and Simple Workout
Orangetheory Fitness is more than just a fitness franchise. It's a three-step fitness routine that includes rowing, cardio, and strength and resistance training.
For convenience purposes, most members will perform these exercises under one instructor. The rowing is a "mildly intense" version of a warmup, engaging multiple muscle groups to get the blood flowing.
The cardio will then maintain the heart rate, helping members burn more calories with the help of increased oxygen intake.
Lastly, the strength training ensures that the member's bodies grow more muscular tissue to help burn excess calorie reserves faster. It's a simple, yet effective way to lose weight and increase strength, all done under an hour.
Quality Equipment
Orangetheory Fitness won't work properly without the right machines. That's why the fitness studio comes equipped with several treadmills, stationary bikes, resistance bands, and other strength training equipment.
Members can rely on these machines to help them achieve their fitness goals faster. In addition to high-quality equipment, Orangetheory Fitness have a supply of heart rate trackers that are essential to performing their signature three-step exercise.
In-studio Shops
Orangetheory Fitness also has in-studio shops to make members feel they belong to a community. They have an assortment of merchandise ranging from custom Orangetheory Fitness shirts to Lululemon outfits.
They also sell backpacks and bags. Their merchandise is also available online, so even non-members can identify with the brand.
And if the shirts are too much for some Orangetheory Fitness, the company also has items for a more discreet brand expression. They sell accessories such as their OTBeat burn which is a wearable heart rate monitor, as well as replacement bands for the OTBeat. (Sweat ruins workout accessories, replaceables save the day!)
They even sell facemasks so members can protect themselves from the coronavirus.
Changes since COVID19
Orangetheory Fitness is consistently taking measures to ensure members are safe against the coronavirus. Since OTF is a franchise, these policies may differ from location, but what's common is that all policies are based on state guidelines.
Members can expect mask-wearing to be a common policy, as well as maintaining social distancing.
Orangetheory Fitness employees also conduct routine cleaning to ensure all areas are virus and bacteria free. Members may have to follow certain in-studio regulations, in cooperation with the staff, to help reduce the risk of coronavirus transmission.
For more information about Orange Theory Fitness, visit their official website.
Orangetheory Fitness Promo
Orangetheory Fitness FAQ
How much is Orangetheory?
Basic Membership (4 Sessions Per Month) – $59
How much is Orange theory elite?
Elite (8 Sessions Per Month) – $99
How much is Orangetheory premier membership?
Premier (Unlimited Sessions Per Month) – $159
How much are Orangetheory classes?
1 Session – $28
10 Sessions – $199
20 Sessions -$359
30 Sessions – $499