Dec, 2023. Prices may vary by location and are updated frequently.
Item
Price

Monthly Memberships

Basic (4 Sessions Per Month)

Initiation Fee (One Person) (Basic)
$0.00
Monthly Fee (One Person) (Basic)
$59.00
Cancellation Fee (One Person) (Basic)
$0.00

Elite (8 Sessions Per Month)

Initiation Fee (One Person) (Elite)
$0.00
Monthly Fee (One Person) (Elite)
$99.00
Cancellation Fee (One Person) (Elite)
$0.00

Premier (Unlimited Sessions)

Initiation Fee (One Person) (Premier)
$0.00
Monthly Fee (One Person) (Premier)
$159.00
Cancellation Fee (One Person) (Premier)
$0.00

Additional Session

Additional Session (Extra)
$18.00

Session Packages

Packages are good for a full year from date of purchase.

10 Sessions
$199.00
20 Sessions
$359.00
30 Sessions
$499.00

Drop In Rate

1 Session
$28.00
Disclaimer: PriceListo gathers actual pricing information from sources such as on-site visits, business websites, and phone interviews. The prices reported on this webpage derive from one or more of those sources. Naturally, the prices reported on this website may not be current, and may not apply to all locations of a given business brand. To obtain current pricing, contact the individual business location of interest to you.
Orange Theory Fitness prices provided by
PriceListo
.
About Orangetheory Fitness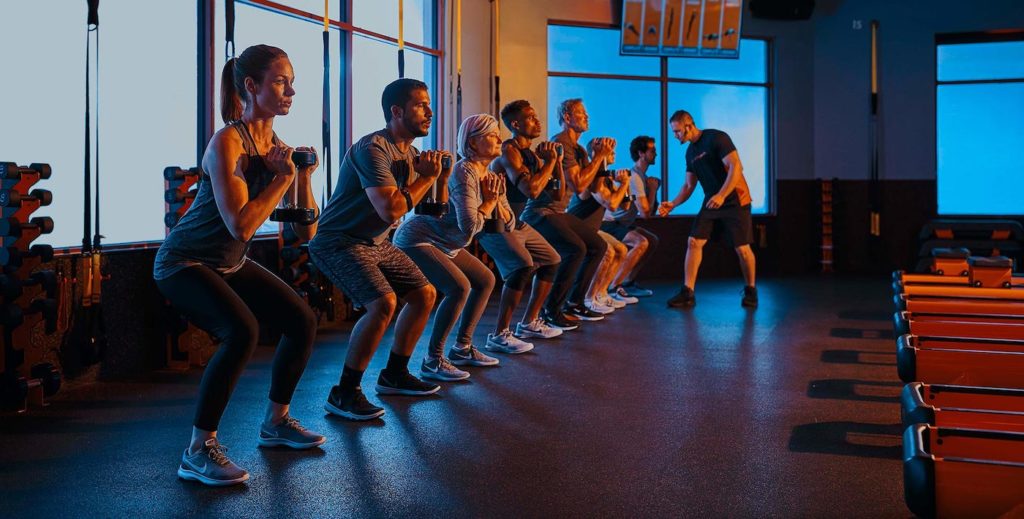 Are you determined to embark on a fitness journey that promises not only effectiveness but also an engaging experience? Orangetheory Fitness, a well-known fitness establishment, might be the solution you've been searching for. Let's take a look at Orangetheory Fitness prices, membership options and amenities so you can decide if this fitness facility is right for you.
A Closer Look at Orangetheory Fitness
Orangetheory Fitness has gained a strong following thanks to its unique approach to exercise. This gym is renowned for blending high-intensity interval training (HIIT) with real-time heart rate monitoring, providing individuals with an efficient means to achieve their fitness goals. If this concept intrigues you and you're considering joining the Orangetheory Fitness community, it's essential to grasp the membership options and the costs associated with embarking on this fitness journey.
Orangetheory Fitness Membership Cost and Prices
Before committing to a fitness journey, it's vital to explore your options and select a membership plan that aligns with your financial resources and fitness aspirations. Orangetheory Fitness offers several membership options designed to cater to a wide range of needs. Let's delve deeper into the specifics:
Basic Membership (4 Classes Per Month)
Monthly Fee: $69
Initiation Fee: None
Cancellation Fee: None
Additional Session Fee: $18
Elite Membership (8 Classes Per Month)
Monthly Fee: $109
Family Add-On: $99
Elite Corporate: $99
Initiation Fee: None
Cancellation Fee: None
Additional Session Fee: $18 (Extra)
Premier Membership (Unlimited Classes)
Monthly Fee: $169
Family Add-On: $159
Premier Corporate: $159
Initiation Fee: None
Cancellation Fee: None (unless late)
Late Cancellation Fee: $12
No Show Fee: $12
Sessional Packages
10 Sessions: $199
20 Sessions: $359
30 Sessions: $499
Drop-In Rate
Note: Guest passes may incur additional costs.
Unpacking the Membership Tiers
Understanding the different membership tiers is paramount in selecting the one that best suits your fitness goals. Let's dissect each membership option:
Orange Basic Membership
Ideal for individuals who wish to experience Orangetheory or attend a few classes per month.
Features: Access to 4 classes per month.
Cost: $69 per month.
Orange Elite Membership
A great choice for regular exercisers who can commit to up to 8 classes per month.
Cost: $109 per month.
Orange Premier Membership
The ultimate option for fitness enthusiasts seeking unlimited monthly classes.
Features: Unlimited classes and discounted rates for families.
Cost: $169 per month.
Sessional Packages
Ideal for those who prefer a flexible approach to their fitness journey.
10, 20, and 30-class packages available at varying prices.
The Benefits of Sessional Packages
Sessional packages offer an opportunity to save on class costs while allowing you to commit to your fitness goals. Here's a brief overview of the options:
10 Class Package: A suitable choice for those wanting to explore Orangetheory or attend a few classes monthly.
20 Class Package: Ideal for individuals looking to commit to a regular workout routine with a moderate number of monthly classes.
30 Class Package: For the dedicated fitness enthusiast seeking maximum flexibility and convenience.
Selecting the right membership or sessional package depends on your individual needs and fitness aspirations. Whether you're an occasional exerciser or a fitness fanatic, Orangetheory Fitness has an option that suits you.
How to Cancel My Orangetheory Membership?
If you decide to cancel your Orangetheory membership, here's what you need to know:
Orangetheory Fitness memberships come without long-term contracts or cancellation charges.
You can terminate your membership at any point.
If you cancel before the end of the billing cycle, you retain access to classes and facilities until the cycle concludes.
If you choose to terminate your membership before the billing period expires, you won't be charged for the following cycle, and access to classes will cease immediately.
Prepaid memberships may be eligible for a prorated refund for unfulfilled classes or remaining membership time.
Installment plan subscribers must clear any outstanding balances before canceling their memberships.
If you decide to rejoin after canceling, you may be subject to current prices and promotions.
Additional Membership Details
Initiation Fee
One notable aspect of Orangetheory Fitness is the absence of initiation costs when signing up for a membership. You simply pay the monthly subscription fee.
Drop-In Fee
If you're not seeking a full membership, you can opt for a drop-in session at $28. This allows you to experience an Orangetheory Fitness class without a long-term commitment.
Access to Multiple Locations
With an Orangetheory Fitness membership, you can attend classes at any location. This is particularly advantageous if you frequently travel or have several Orangetheory Fitness studios near your home or workplace. You can conveniently reserve classes at the facility of your choice via the Orangetheory Fitness app or website.
Freezing a Membership
Orangetheory Fitness offers the option to freeze your membership for a specified duration, although the terms and costs can vary based on location and membership type. It's advisable to check with your local Orangetheory Fitness studio for their specific policies and procedures related to freezing memberships.
Class Pricing
The cost of attending an Orangetheory Fitness class varies depending on factors like location, membership status, and the package of classes purchased. Typically, purchasing larger class packages results in a lower cost per class.
For example, a single class may cost around $28, while a package of 10 classes could average about $20 per class.
Certain Orangetheory Fitness locations might offer special rates for new members or discounts for specific groups, such as military personnel or students. Membership plans often provide access to classes at a more affordable rate than purchasing individual sessions. These plans typically involve a monthly fee and include a specific number of sessions per month or unlimited access to classes. The cost of membership can fluctuate depending on the location, ranging from $59 to $159 per month, depending on the plan chosen and the studio's location.
Please keep in mind that the provided estimates are general guidelines, and actual costs can vary based on the location and ongoing promotions. We recommend contacting your nearest Orangetheory Fitness studio for precise pricing details.
Group Fitness Classes
Orangetheory Fitness is renowned for its innovative approach to group fitness classes. These dynamic workouts are designed to maximize your fitness gains while offering a fun and supportive group environment. Here's a glimpse into the various types of group classes you can experience at Orangetheory Fitness:
1. Endurance Workouts
Endurance workouts at Orangetheory Fitness are tailored to enhance your cardiovascular endurance and stamina. These sessions focus on sustained efforts at a moderate intensity level, which is excellent for building your aerobic capacity. You can expect to engage in activities like steady-state treadmill running, cycling, and rowing. Endurance workouts are ideal for individuals looking to boost their cardiovascular fitness and stay active for longer periods.
2. Strength Sessions
Strength-focused group classes at Orangetheory Fitness are designed to help you build muscle, improve overall strength, and enhance your metabolism. These classes typically include resistance training exercises using various equipment such as dumbbells, TRX bands, and bodyweight exercises. Expect to work on muscle groups across your body, promoting balanced strength development. Strength sessions are an excellent choice for those aiming to increase their muscle tone and functional strength.
3. Power Workouts
Power workouts are all about explosive movements and quick bursts of energy. These classes incorporate high-intensity exercises that require short bursts of maximal effort. You can anticipate exercises like sprints on the treadmill, plyometric movements, and high-speed rowing. Power workouts are perfect for individuals seeking to improve their speed, agility, and explosive power.
4. ESP (Endurance, Strength, Power) Sessions
ESP sessions offer a well-rounded fitness experience by combining elements of endurance, strength, and power in a single workout. These classes incorporate a mix of exercises, ensuring that you challenge both your cardiovascular endurance and muscle strength while enhancing your power output. ESP sessions provide variety and a comprehensive approach to fitness, making them a popular choice among Orangetheory Fitness enthusiasts.
5. Specialty Workouts
Orangetheory Fitness frequently introduces specialty workouts that add a unique twist to your fitness routine. These sessions may focus on specific themes, seasonal events, or special challenges. Specialty workouts are an opportunity to experience variety in your fitness journey and keep things exciting.
6. Signature Orangetheory Workouts
Orangetheory Fitness is known for its signature workouts, such as the "Orange X" and the "Benchmark" workouts. These workouts are carefully crafted to track your progress and provide a benchmark for your fitness improvements. They often involve specific exercises, time trials, and performance metrics that help you measure your growth.
7. Coach-Led Classes
One of the hallmarks of Orangetheory Fitness is the expert guidance of certified coaches. Coach-led classes ensure that you receive personalized attention and instruction throughout your workout. Coaches motivate and challenge you, helping you reach your fitness goals effectively and safely.
8. Ever-Evolving Workouts
Orangetheory Fitness takes pride in its commitment to evolving and refreshing workouts regularly. This dedication to innovation means that you'll always have something new and exciting to look forward to in each group class.
Why Choose Orangetheory Fitness?
You might be wondering, "What sets Orangetheory Fitness apart from other fitness options?" Let's explore some of the compelling reasons why individuals are drawn to this dynamic fitness community:
1. Innovative HIIT Workouts
Orangetheory Fitness has pioneered a unique workout concept by combining high-intensity interval training (HIIT) with personalized heart rate monitoring. This cutting-edge approach ensures that every minute of your workout is optimized for maximum results.
2. Comprehensive Fitness Tracking
The heart of Orangetheory's success lies in its ability to provide real-time heart rate data, ensuring you hit your target zones and stay on track with your fitness goals. The incorporation of science and technology into every session keeps you motivated and engaged.
3. Varied and Challenging Workouts
With constantly evolving workouts, Orangetheory Fitness ensures that you'll never experience the dreaded fitness plateau. You'll be challenged, motivated, and inspired with each visit, making every workout exciting and beneficial.
4. Supportive Community
Orangetheory Fitness fosters a sense of community among its members. The group environment is uplifting and encourages individuals to achieve their fitness goals while connecting with like-minded people.
5. Flexibility and Accessibility
The ability to access multiple locations is a significant advantage, allowing you to fit your workouts into your daily life seamlessly. This convenience ensures you're never far from an Orangetheory Fitness studio.
6. Freeze Options
Life can be unpredictable, and Orangetheory Fitness recognizes this by offering freeze options for memberships. Whether it's due to travel, illness, or any other reason, you have the flexibility to pause your membership temporarily.
7. Class Packages for Various Needs
Orangetheory Fitness doesn't believe in a one-size-fits-all approach. With various membership options and class packages, you can select the plan that aligns with your fitness objectives and budget.
8. Results-Driven Approach
If you're serious about making progress and achieving your fitness goals, Orangetheory Fitness provides the structure and support necessary for you to succeed. The combination of data-driven workouts and professional guidance is a recipe for success.
9. Personalized Feedback
You receive individualized feedback based on your heart rate and performance during each session. This valuable data helps you understand your progress and fine-tune your workouts.
10. Variety of Classes
Orangetheory Fitness offers a variety of class types, including yoga, reformer Pilates, Six Zone personal training classes, cycling, barre, and dance sweat. With this assortment, you can diversify your fitness routine and prevent boredom.
11. Complimentary Childcare
Orangetheory Fitness understands the challenges faced by parents who wish to prioritize their health and fitness. The provision of complimentary childcare allows you to focus on your workout while your child is well taken care of.
12. No Initiation Fees
When you join Orangetheory Fitness, you won't encounter any initiation fees. You simply pay the monthly subscription cost, ensuring a straightforward and transparent membership process.
Orangetheory Fitness: The Go-To Destination for Fitness Enthusiasts
Orangetheory Fitness isn't just a gym; it's a community dedicated to transforming lives through fitness. With its innovative approach to workouts, comprehensive fitness tracking, and supportive environment, Orangetheory Fitness has gained a reputation for delivering real results.
The flexibility of membership options, freeze choices, and diverse class offerings make it a versatile choice for a broad spectrum of needs. Additionally, the ability to access multiple locations, freeze your membership when needed, and explore flexible class pricing makes this fitness community a top choice for many. So, take the plunge into a world of fitness that combines innovation and results with Orangetheory Fitness.
Exploring the Hours of Orangetheory Fitness
Ensuring that a fitness center fits into your daily schedule is crucial to maintaining a consistent workout routine. Orangetheory Fitness understands this, and they have tailored their operating hours to accommodate a wide range of schedules. Their extensive schedule offers flexibility for early birds, night owls, and everyone in between. Whether you prefer to start your day with a morning workout or wind down in the evening, Orangetheory Fitness has you covered.
Benefits of Joining Orangetheory Fitness
Access to 1,300 Studios Nationwide
Orangetheory Fitness is not limited to a single location or city. With your membership, you gain access to a vast network of studios across the nation. Whether you're traveling, relocating, or simply seeking variety in your workouts, the ability to visit any of the 1,300 studios nationwide ensures that your fitness journey remains uninterrupted. Each studio retains the signature Orangetheory Fitness environment, providing consistency in quality and workout experience.
Month-to-Month Contract with 30-Day Cancellation
Orangetheory Fitness understands that life can be unpredictable, and your fitness commitment should accommodate your changing circumstances. With a month-to-month contract, you are not bound by lengthy agreements. If the need arises to cancel your membership, you have the flexibility to do so with a 30-day notice. This transparent and straightforward cancellation process provides peace of mind, ensuring that your fitness journey remains aligned with your life's evolution.
Flexible Class Times and 7-Day Availability
Orangetheory Fitness prioritizes your convenience by offering flexible class times throughout the week. With open doors seven days a week, you can tailor your workouts to your schedule. Whether you prefer early morning workouts to energize your day or evening sessions to unwind, Orangetheory Fitness accommodates your diverse daily routines. This accessibility ensures that your fitness goals are achievable without compromising your lifestyle.
Mobile App for Booking and Performance Tracking
In the digital age, staying connected with your fitness journey is paramount. Orangetheory Fitness empowers its members with a dedicated mobile app that serves as a gateway to booking classes and tracking performance. This intuitive app allows you to seamlessly schedule your workouts at your preferred studio, ensuring that you never miss a session. Additionally, the app provides real-time tracking of your heart rate and performance data, enabling you to monitor your progress and optimize your fitness goals.
Freeze Privileges
Orangetheory Fitness recognizes that life occasionally throws curveballs, requiring temporary adjustments to your fitness commitment. With their freeze privileges, you have the flexibility to pause your membership for up to 60 days, twice a year. This feature is especially valuable for moments when travel, illness, or personal commitments may temporarily interfere with your regular workout routine. The option to freeze your membership ensures that your fitness journey remains adaptable and stress-free.
No Long-Term Contracts
Orangetheory Fitness is committed to delivering a fitness experience free from long-term contracts. Unlike some gyms that lock you into extended agreements, Orangetheory Fitness values your autonomy and provides membership options that cater to your individual needs. This commitment to no long-term contracts empowers you to engage in your fitness journey with confidence and flexibility.
For more information about Orange Theory Fitness, visit their official website.
Orangetheory Fitness Promo