January, 2022. Prices may vary by location and are updated frequently.
Item
Price

Monthly Memberships

Basic (4 Sessions Per Month)

Initiation Fee (One Person) (Basic)
$0.00
Monthly Fee (One Person) (Basic)
$59.00
Cancellation Fee (One Person) (Basic)
$0.00

Elite (8 Sessions Per Month)

Initiation Fee (One Person) (Elite)
$0.00
Monthly Fee (One Person) (Elite)
$99.00
Cancellation Fee (One Person) (Elite)
$0.00

Premier (Unlimited Sessions)

Initiation Fee (One Person) (Premier)
$0.00
Monthly Fee (One Person) (Premier)
$159.00
Cancellation Fee (One Person) (Premier)
$0.00

Additional Session

Additional Session (Extra)
$18.00

Session Packages

Packages are good for a full year from date of purchase.

10 Sessions
$199.00
20 Sessions
$359.00
30 Sessions
$499.00

Drop In Rate

1 Session
$28.00
Disclaimer: PriceListo gathers actual pricing information from sources such as on-site visits, business websites, and phone interviews. The prices reported on this webpage derive from one or more of those sources. Naturally, the prices reported on this website may not be current, and may not apply to all locations of a given business brand. To obtain current pricing, contact the individual business location of interest to you.
Orange Theory Fitness prices provided by
PriceListo
.
About Orangetheory Fitness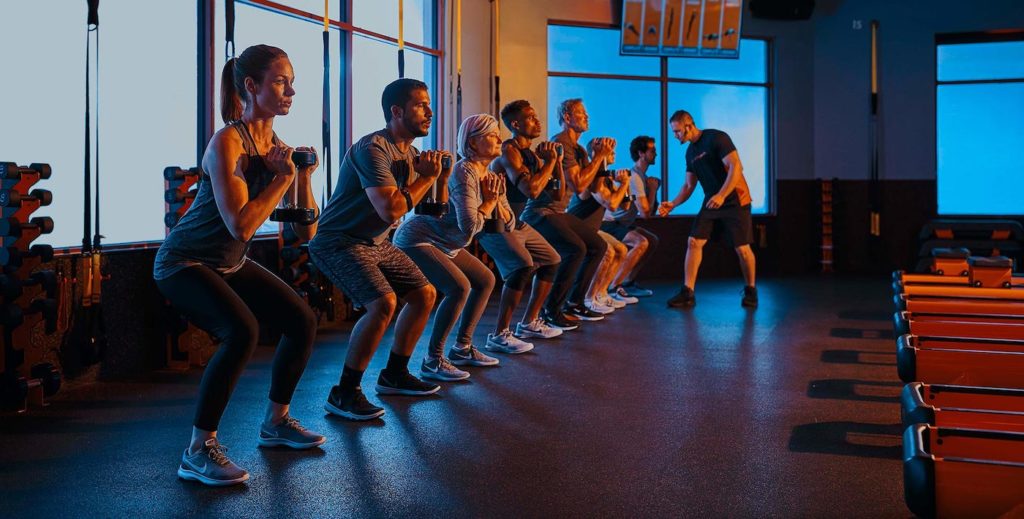 The hype given to Orange Theory Fitness (OTF) is that it is the only one of its type around the world. Its founder claims that it is a new and exciting fitness concept that is sweeping the whole of the United States.
In just one year after its establishment in 2010, Orange Theory Fitness has expanded to 38 locations in the country. It is still poised to add more locations to satisfy the request of its customers.
How Orange Theory Fitness Differs from the Rest
One major thing that differentiates Orange Theory Fitness from the rest is that it leverages group personal training and heart-rate-monitored interval exercise to maximize a person's calorie burn. The typical OTF is a moderate-sized studio with treadmills on one side, a number of large TV screens on another, several rowing machines in one corner, and a few sets of identical resistance training stations.
What Clients Can Expect from an OTF Membership
Specialized group personal training sessions for middle and high income customers
The best one-hour workout in the United States
A total of 55 classes per week for all levels of membership
Very affordable group personal training
History of Orange Theory Fitness
The first Orange Theory Fitness studio opened in Ft. Lauderdale, Florida, in March 2010. It was also a franchise system that was envisioned by Ellen Latham. Ellen possesses good credentials and has a master's degree in exercise physiology. She was formerly teaching Pilates, but found that it was not intense enough to produce good results. To provide for the need, she invented an interval-training workout that she would later name as Orange Theory Fitness.
Membership Plans
There are various plans you can choose from to ensure that you can enroll at a level that will perfectly suit your needs and your budget. To give you an idea of how OTF will benefit you, your first session is absolutely free – with no commitments asked.
OTF offers flexible plans without any specific contract period. The arrangement is an easy pay-as-you-go if you are using OTF to get you in shape for a special occasion. You can also get great discount if you will sign-up for OTF's Elite or Premium plans.
These are types of membership available at OTF:
Orange Basic
There is no contract for this type of membership, but is available on a month-to-month basis. You will be allowed four workout sessions per month. If you choose to have additional sessions, you are entitled to a discount.
Orange Elite
This plan does not require any contract and is also available on a month-to-month basis. You are allowed eight sessions per month. Additional sessions are available at a discounted rate.
Orange Premier
There is also no contract for this plan since it is only available on a month-to-month basis. With a Premier membership, you are not restricted on the number of sessions you want to attend.
Please take note that the no contract provision requires a direct monthly billing to your credit card or your checking account. You can also choose to get the pre-package membership plan which is available in increments of 10, 20, and 30 sessions. If your family works out with you, OTF entitles you to an add-on Family Discount.
OTF Benefits
Many clients of OTF say that the results were very good seven years ago, that word got out all over the country.  People from across the nation were coming because the results were very significant in just a short period of time.
Thus, many people approached the OTF founder asking her to establish OTF studios in different parts of the country.
Ellen Latham, OTF's creator boasts that her workout routine is the next generation of the Ellen's Ultimate Workout, the previous program she taught at her former gym. This gym has a large following of Pilates aficionados.
A member of OTF, Adon Rosello, says that he has gone from 450 pounds to just about 380. He claims that he went to other gyms previously pretending to exercise. But in OTF, he says that he just can't cruise enough to complete his routines. This proves Latham's claims that OTF does a better job of burning fat.
The key why OTF is effective is it gets the heart rate of a person to at least 85 per cent of the maximum. This triggers what is called 'excess post-exercise oxygen consumption. This in turn speeds up a person's metabolism for the rest of the day.
The Initial OTF Experience
Typically, when a new member enters an OTF studio, he will be 'podded up.' That means he will be provided with a heart rate monitor. The screens on the wall of the tread mill banks show the heart-rate zones of those who are in session.
He will either start off with the treadmill or is asked to do a resistance circuit. Half the class does a resistance circuit and the other half starts on the treadmills. They switch places after 30 minutes, with a five minute stretch session at the end.
For more information about Orange Theory Fitness, visit their official website.
OrangeTheory Fitness YouTube
OrangeTheory Fitness FAQ
How much is Orangetheory?
Basic Membership (4 Sessions Per Month) – $59
How much is Orange theory elite?
Elite (8 Sessions Per Month) – $99
How much is Orangetheory premier membership?
Premier (Unlimited Sessions Per Month) – $159
How much are Orangetheory classes?
1 Session – $28
10 Sessions – $199
20 Sessions -$359
30 Sessions – $499