Oct, 2023. Prices may vary by location and are updated frequently.
Item
Price

Pay Per Class

First Time Ride

First Class (Expires in 30 Days)
$20.00
After First Class or Regular Class Price (Expires in 30 Days)
$30.00
Five Classes (Expires in 45 Days)
$145.00
Ten Classes (Expires in 3 Months)
$280.00
Twenty Classes (Expires in 9 Months)
$540.00
Thirty Classes (Expires in 12 Months)
$780.00

Supersoul

Fifty Classes (Expires in 12 Months)
$3,500.00

Hamptons Supersoul

Fifty Classes (Expires in One Year)
$4,000.00
Disclaimer: PriceListo gathers actual pricing information from sources such as on-site visits, business websites, and phone interviews. The prices reported on this webpage derive from one or more of those sources. Naturally, the prices reported on this website may not be current, and may not apply to all locations of a given business brand. To obtain current pricing, contact the individual business location of interest to you.
Soul Cycle prices provided by
PriceListo
.
About Soul Cycle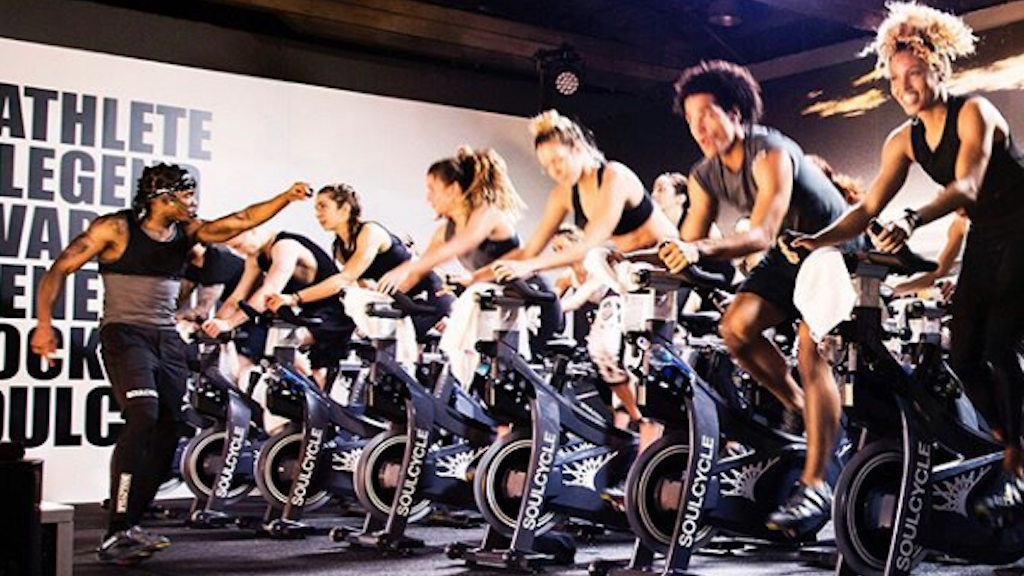 There's less to worry about in Soul Cycle compared to other gyms because the amount of equipment is limited only to the number of stationary bikes.
And social distancing isn't a problem since Soul Cycle only has to distance the equipment appropriately. This is why Soul Cycle took less time reopening despite closure in several locations.
Soul Cycle's updated policies around COVID are very similar to other fitness centers. Social distancing and regular cleaning are few of the several measures they take to make sure members feel safe.
Vaccine is Required Prior To Entry
First on the list of their updated policies include vaccination requirements. All members of Soul Cycle will only be allowed entry if they have at least one dose from any of these three companies: Pfizer, Johnson & Johnson, or Moderna. For Soul Cycle riders from New York City, they need an additional Excelsior Pass.
A picture of the vaccination card counts as legitimate proof. For individuals who have not taken the vaccine, they will have to send an email. Not all states will have the same policies regarding vaccination, and North Carolina and NYC will have stricter requirements.
Face Masks!
BUT, only in common areas. This is not a Soul Cycle requirement, however, the company must comply with government mandates, else risk closing the business.
Soul Cycle understands that stationary bikes and all forms of cardio are made difficult with a mask, that's why they're giving their members the option to remove their mask if they're on their bikes. The final say will be from the local government – members should check with their local Soul Cycle regarding updates on the mask policy.
Cleaning Will Be Done Frequently
Soul Cycle isn't exactly a traditional gym, however, the stationary bike handles can get really icky when the workouts become intense.
And it's not only the sweat members have to worry about. Coronavirus and other types of bacteria are transmitted easily via hand-to-face contact, and touching one's face is something all people have least control of when they're working out.
Soul Cycle cleans "high touch points" or surfaces where it's highly likely it's been touched by several individuals.
Cleaning is done every after class so the next batch of riders don't have to worry about contracting deadly diseases. To meet that extra 0.01% of total disinfection, Soul Cycle staff will deep clean bikes even if they weren't used during a class.
Installing FDA Approved Air Filters
COVID is not airborne, but the virus can travel in droplets that remain suspended in the air after some time. That's why FDA recommends air filters that stop these droplets from traveling through air vents, or at least prevent them from circulating in the air. Soul Cycle's filters use PECO technology.
For the rest of the masses who aren't familiar with PECO, it's a technology that destroys organic matter as small as 0.1 nanometer. The filters are extremely capable of filtering out the coronavirus which is at least 60 nanometers. The PECO filters destroy viruses and bacteria with the use of light, electricity, and chemicals – three things that can easily kill microorganisms.
Soul Cycle Membership and Discounts
Signing up to Soul Cycle is easy. There's no fixed contract or long-term involvement with credit cards and such. A customer can simply buy classes – either through the app, the website, or in-store. Soul Cycle doesn't work like gyms where you can go in and start cycling. Each time you purchase a class, you will be performing cycling exercises with a group.
The pricing varies according to location, and the best way to find out is to call the phone number indicated on the website. There's a location function to check where the nearest Soul Cycle location is too, both available in the website and on the app.
No Guest Pass, but…
Unfortunately, there is no guest pass being offered from Soul Cycle. However, they have gift cards, free classes, and discounts. The Soul Cycle app does have a referral program. Existing members who can bring three or more new customers to sign up will be given a free class. There's no limit to how many free classes one can possibly get from Soul Cycle.
Students can also avail of a discount from Soul Cycle. Purchasing classes by bulk also gives customers a discount. Classes have an expiration date, have fixed ownership, and are non-refundable. However, rescheduling classes is also possible.
Long time customers of Soul Cycle also have to worry less since the fitness company introduced the Soul Renew. This feature allows members to have new classes after they consume their remaining classes. It's perfect for individuals who have trouble remembering when and how many classes are remaining.
What Those Gift Cards Are Actually For
Just to be clear, gift cards aren't used for classes. These gift cards are used to purchase in-store items from Soul Cycle. Members don't need to bring cash to buy Soul Cycle merchandise if they have the e-gift cards or the physical ones. Soul Cycle also mails these upon request, or customers can pick them up from the store.
For more information about Soul Cycle, visit their official website.
Soul Cycle Promo
Soul Cycle FAQ
How much are five classes for Soulcycle?
Five Classes (Expires in 45 Days) – $145.00/person.
How much is a Soulcycle membership?
SoulCycle operates on a pay by class model and does not offer memberships. First Class is $20.00 and Regular Class Price is $30 per class.
How much is supersoul Soulcycle?
Supersoul: Fifty Classes (Expires in 12 Months) – $3,500.
How much is Soulcycle per month?
Depending on how many classes you sign up, but it is usually Five Classes (Expires in 45 Days) which is $145/person.