2023. Prices may vary by location and are updated frequently.
Item
Price

Memberships

Month to Month

Initiation Fee (Month to Month)
$25.00
Monthly Fee (Month to Month)
$18.00
Due Today (Month to Month)
$166.00
Cancellation Fee (Month to Month)
$0.00

Add-Ons

Tanning (Recurring) (Month to Month)
$20.00
Childcare (Recurring) (Month to Month)
$10.00

One Year Term

Initiation Fee (One Year Term)
$25.00
Monthly Fee (One Year Term)
$25.00
Due Today (One Year Term)
$60.00
Cancellation Fee (One Year Term)
$0.00

Paid In Full - 12 Months

Initiation Fee (12 Months)
$0.00
Due Today (12 Months)
$249.00
Cancellation Fee (12 Months)
$0.00
Disclaimer: PriceListo gathers actual pricing information from sources such as on-site visits, business websites, and phone interviews. The prices reported on this webpage derive from one or more of those sources. Naturally, the prices reported on this website may not be current, and may not apply to all locations of a given business brand. To obtain current pricing, contact the individual business location of interest to you.
World Gym prices provided by
PriceListo
.
About World Gym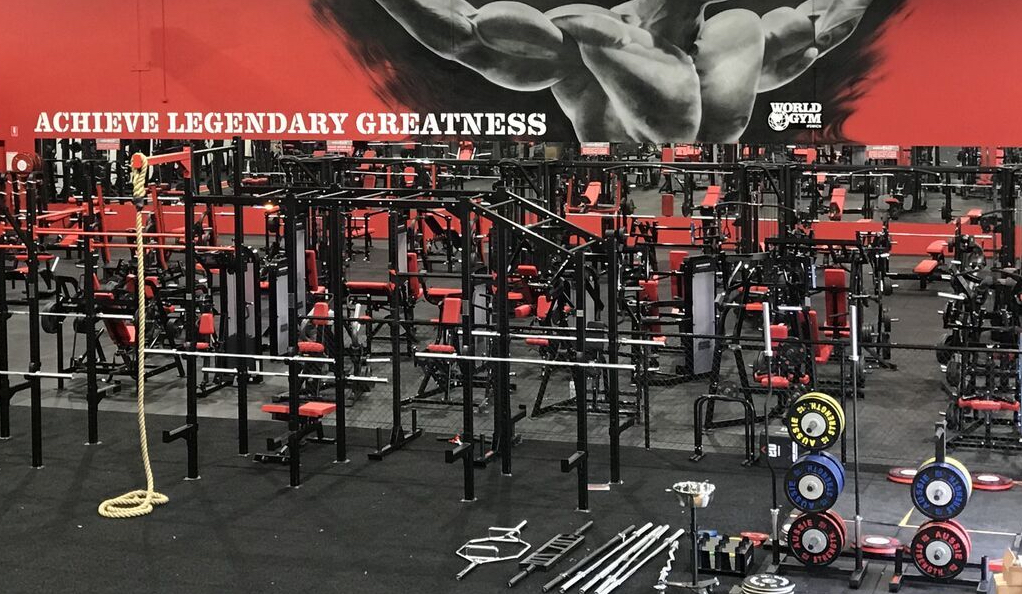 World Gym is Joe Gold's last creation after Gold's Gym. The company has its roots even before the time Joe Gold sold the previous gym chain in the 1970's. The first ever World Gym was opened in Santa Monica, California.
Today, there are over 215 locations all over the world, and still growing. The people who currently own World Gym are the Cammilleri family, and they're hoping to bring more "seriously-fun fitness" to the whole world.
How To Join World Gym
Joining World Gym is very similar to how anybody would join other fitness gyms. Members can either walk in or sign up on the website. If you're in a city that's lacking fitness gyms or studios, you can use their branch locator to find the nearest place to workout.
To join World Gym via the website, new members need to fill out a form with their name, contact details, and address. Aspiring members will have to wait for the details regarding their registration.
Guest pass access or free trial access depends on the location of the World Gym. It's offered in most locations.
Customers can simply visit the website, locate the nearest World Gym near them, and check whether the free pass button shows on the upper left corner of the website. They also have a referral program, although the mechanics on how members can win prizes vary by location.
On occasion, World Gym locations will also offer membership specials. For instance, the World Gym at Pensacola ahs the following membership options:
Gorilla Garden membership option allows individuals to train outside in the Gorilla Garden, plus, a 24/7 access to the gym.
World Gym Athletics has all of the above options, with the addition of a multi-club access feature, and a monthly body progress report.
Salt Athletics membership option helps members recover faster with the use of several techniques like Salt Therapy, Red Light Therapy, Massage, and many more.
The Perks You Get At World Gym
When you become a member of World Gym, you will have access to quality equipment, professional coaching, and more. Here's a summary of the benefits you will receive when you become a member of World Gym:
Free Weights and Resistance Training Equipment
World Gym is Joe Gold's after all. Expect some high-quality dumbbells and barbells, and resistance equipment especially designed to increase strength after several sessions.
At World Gym, members can expect heavier weights because this gym has a large client base of bodybuilders. But that doesn't mean they only focus on weight lifting…
Weight Loss Programs/Alternative Fitness Programs
Aside from the free weights lying around for any bodybuilder to use, people who lean more on developing flexibility and core strength will thank World Gym for their yoga classes. There's also spin classes, and kickboxing for aspiring octagon fighters (or simply for self-defense purposes).
Group Classes
If new members feel intimidated with all the gym equipment, but would instead like some social form of an exercise, World Gym also provides that service. Group classes allow anyone to participate in exercise with several people, allowing them to achieve their fitness goals with their friends, or just gym classmates.
Group classes also offer varied types of exercises each week, so it's never boring.
Personal Training and Coaching
More individuals are taking fitness seriously and progress reports come in handy. Professional coaches help members achieve correct form when exercising, determine whether the individual is ready to increase the intensity of their workouts, or if they need adjustments in their nutrition.
Prior to starting a program, coaches and trainers will determine an individual's body composition. The member is then given a tailored program to help them achieve their fitness goals.
All trainers and fitness coaches are professionally certified and they have extensive knowledge on weight loss, weight gain, muscle gain, strength training, and nutrition, just to name a few.
Child Care
Some branches of World Gym offer child care centers. It's an extremely beneficial perk for working parents that want to get the most out of their workouts.
The daycare "center" has professional staff to monitor children while parents are pushing their limits at the gym.
Side Notes
World Gym has all the equipment necessary for an individual's fitness journey, but as long as COVID-related government mandates are in effect, operations will be limited.
However, World Gym also offers virtual classes to help individuals committed to their long term goals of fitness. World Gym has a mobile app that allows members access to more than hundreds of workouts.
Most open locations of the World Gym will be implementing social distancing procedures, several sanitation stations, and face mask policies.
Depending on where it's located, some World Gym branches may either have stricter or looser policies. Members can visit the specific World Gym website for more information on these COVID-related rules.
For more information about World Gym, visit their official website.
World Gym Promo
World Gym FAQ
How much is World Gym membership?
It starts around $18 dollars per month.
How much are World Gym add ons?
Tanning starts at $20 per month and Childcare is at $10 per month.
How much is World Gym annual membership?
Paid In Full membership – $0 for initiation, and today dues of $249/person and per year.
One year term membership – $25 for initiation, monthly fee is $25 and includes all weight training and cardio areas.