Dec, 2023. Prices may vary by location and are updated frequently.
Item
Price

Weekly Membership

Individual Member

Per Week

Initiation Fee (Individual Member)
$0.00
Weekly Fee (Individual Member)
$14.95
Cancellation Fee (Individual Member)
$0.00
Lock-In Contract (Individual Member) (No)
$0.00

Mate Rate

Per Week

Initiation Fee (Mate Rate)
$0.00
Weekly Fee (Mate Rate)
$12.95
Cancellation Fee (Mate Rate)
$0.00
Lock-In Contract (Mate Rate) (No)
$0.00
Disclaimer: PriceListo gathers actual pricing information from sources such as on-site visits, business websites, and phone interviews. The prices reported on this webpage derive from one or more of those sources. Naturally, the prices reported on this website may not be current, and may not apply to all locations of a given business brand. To obtain current pricing, contact the individual business location of interest to you.
Jetts Fitness prices provided by
PriceListo
.
About Jetts Gym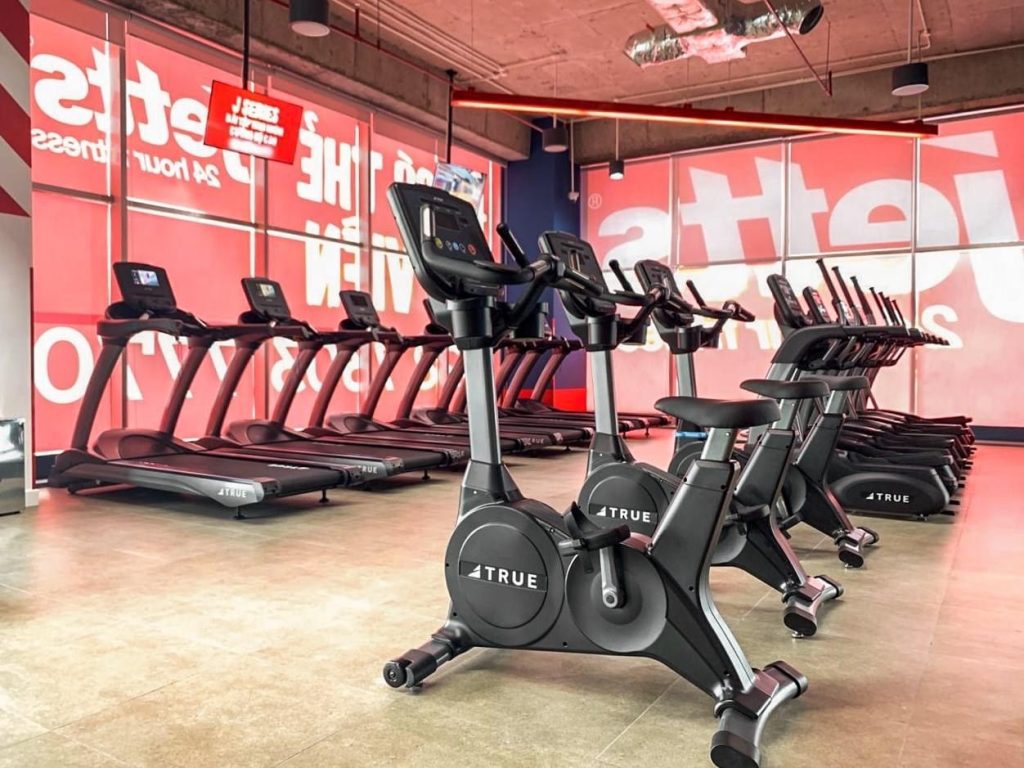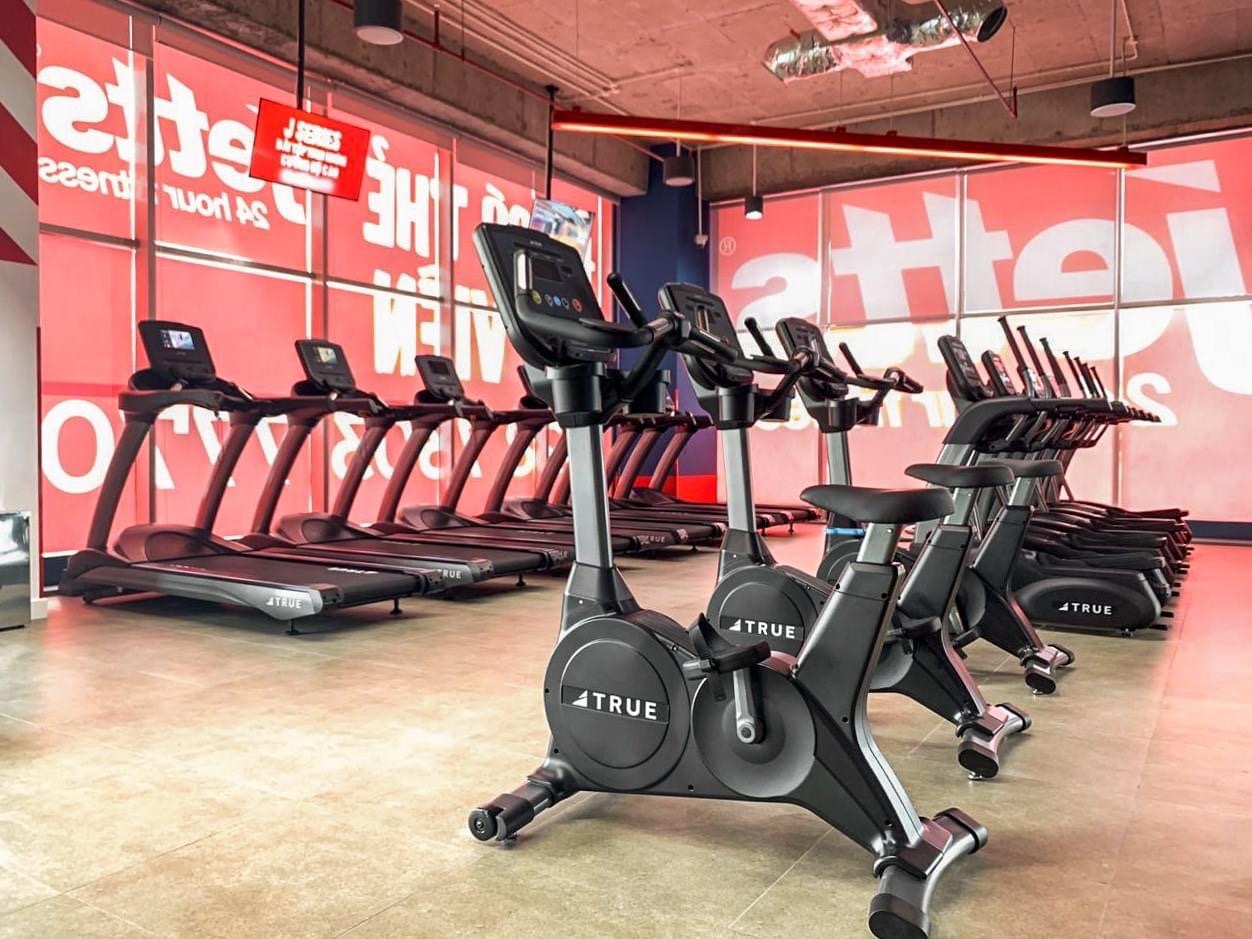 Are you on the hunt for an affordable gym that provides cost-effective pricing along with top-quality facilities to help you reach your fitness goals? Look no further than Jetts Gym! With a wide range of membership options and budget-friendly rates, Jetts Gym is the ideal place to embark on your fitness journey. Let's delve into the Jetts Gym prices, membership costs, and the gym's reputation as one of the fastest-growing fitness chains.
Jetts Gym Prices and Membership Costs
Understanding the pricing structure of Jetts Gym is essential for making an informed decision. Jetts Gym offers a range of membership options that cater to various needs and budgets. Here, we break down the Jetts Gym membership cost on a weekly basis:
Individual Membership Fees:
Initiation Fee (Individual Member): $0.00
Weekly Fee (Individual Member): $14.95
Cancellation Fee (Individual Member): $0.00
Lock-In Contract (Individual Member): No
Jetts Gym Mate Rate:
Initiation Fee (Mate Rate): $0.00
Weekly Fee (Mate Rate): $12.95
Cancellation Fee (Mate Rate): $0.00
Lock-In Contract (Mate Rate): No
Jetts Gym membership costs may vary based on factors such as location and the type of membership you choose. The 24-hour Access membership typically ranges from $10 to $20 per week, while the Flexible membership can cost between $12 and $22 per month. These prices may be subject to discounts or promotions available at the time of sign-up.
Please note that some Jetts Gym locations may require an upfront payment for access fobs or other membership-related items. The key takeaway is that Jetts Gym strives to offer affordable membership options to make fitness accessible to all.
Initiation Fees and Contracts
Initiation Fee: Jetts Gym typically does not charge an initiation fee when you sign up. However, there might be an annual fee for access fobs or other membership-related items. These fees are generally affordable and vary depending on the facility's size.
Contracts: Jetts Gym prides itself on offering flexible and affordable membership plans with no long-term contracts or hefty fees. This approach ensures that fitness is accessible to all, and members can join classes without worrying about expensive upgrades.
Payment Flexibility
Jetts Gym understands that everyone's financial situation and preferences differ. They offer members the option to pay on a weekly, fortnightly, or monthly basis, as well as annually if preferred. Payments can be made through direct debit or credit card. Members can easily update their payment information through the Jetts Gym online portal, providing the flexibility needed to manage their budget and fitness routine effectively.
Cancellation Policy
Jetts Gym boasts a flexible cancellation policy that allows members to cancel their memberships at any time without incurring additional charges. To cancel, you typically need to provide the gym with at least 30 days' notice. This ensures a smooth cancellation process and stops direct debit payments.
Keep in mind that if you decide to cancel your membership mid-cycle, you'll still be charged for that billing cycle. Any dues paid for membership are non-refundable upon cancellation. Jetts Gym aims to provide a straightforward cancellation process, aligning with their commitment to accessible fitness without long-term commitments.
Facilities Included in Your Jetts Gym Membership
A Jetts Gym membership typically includes access to a wide range of facilities to help you achieve your fitness goals. These facilities can vary depending on the specific Jetts Gym location and the membership option you choose. Common facilities include:
Strength Training Equipment: Jetts Gyms are equipped with a variety of strength training equipment, including weight benches, squat racks, and cables.
Cardio Machines: Members have access to various cardio equipment such as stationary bikes, treadmills, and ellipticals.
Free Weights: Jetts Gym provides a range of free weights, including dumbbells and barbells.
Group Fitness Classes: Many Jetts Gym locations offer group fitness classes, such as spin, yoga, or HIIT training.
24/7 Access: Some Jetts Gym locations provide 24/7 access, allowing members to work out at their convenience.
Virtual Fitness Classes: Certain locations offer virtual fitness classes that can be accessed from home or while on the go.
Change Rooms and Showers: Members can utilize showers and changing areas at most Jetts Gym locations.
Keep in mind that the specific facilities offered may differ based on the location and membership choice. It's always advisable to check with your local Jetts Gym for details about their offerings.
Additional Fees for Specific Facilities or Services
While Jetts Gym offers an affordable membership structure, it's essential to be aware that certain facilities or services may come with additional charges. These additional services can include online fitness classes, personal training sessions, and specific amenities such as saunas or tanning beds. These charges are typically not included in your basic membership fees and may vary based on the service or facility you wish to use. Contact your nearest Jetts Gym for a comprehensive list of additional fees and charges.
Access to Multiple Locations
Jetts Gym typically allows members to use their membership at multiple locations within the same country or region. This means that even if you initially join one specific Jetts Gym facility, you can access other Jetts Gym locations within the same area. However, there may be exceptions, and some locations could have restrictions or additional charges for access. It's advisable to confirm your access rights at other locations with your nearest gym and Jetts Gym's customer service.
Jetts Gym Membership Price Increases
Jetts Gym membership prices may be subject to periodic increases to account for rising costs, inflation, or other operational expenses. These price hikes are typically announced in advance, giving members time to adjust their budgets or cancel their memberships if needed. The frequency and amount of price increases can vary depending on factors like the gym's size and the economic climate.
Despite these occasional price adjustments, Jetts Gym remains committed to offering low-cost and customizable membership plans that cater to a variety of fitness needs and budgets.
Basic vs. Premium Memberships
Jetts Gym offers two primary membership options: Basic and Premium. The Basic membership provides access to the gym during regular hours only. In contrast, the Premium membership offers full access to the gym and additional benefits, such as discounts on personal training sessions and access to online fitness classes. The choice between Basic and Premium memberships depends on your fitness goals and personal preferences.
Bringing Guests to Jetts Gym
Some Jetts Gym locations permit members to bring guests to the gym. Guests typically need to pay a fee, which can vary depending on the location. This feature allows members to work out with family members or friends, providing an opportunity to introduce them to the gym environment. Guest policies and rates can vary, and this service may not be available at all locations.
Senior and Student Memberships
Jetts Gym recognizes the importance of providing fitness options for seniors and students. They may offer discounted membership rates for these demographics. The rates for senior or student memberships can differ by location, so it's recommended to inquire with your local Jetts Gym for specific pricing details. Seniors may also qualify for promotions or discounts, making Jetts Gym an affordable choice for individuals of all ages.
Why Join Jetts Gym?
Jetts Gym offers several compelling reasons to become a member:
24/7 Access: Enjoy the convenience of working out at any time of the day or night.
HIIT Team Training: Participate in high-intensity interval training sessions to achieve your fitness goals.
280+ Gyms Globally: Gain access to a vast network of Jetts Gym locations, both in Australia and abroad.
Personal Training: Take advantage of personal training services to receive guidance and support from fitness experts.
Train With Real People: Join a welcoming fitness community that fosters motivation and camaraderie.
Access to Jetts Member App: Access workout programs, nutrition advice, and more through the Jetts Member App.
Mate Rate: Enjoy better rates when you join with a friend or workout partner.
Jetts Gym Membership Options
Jetts Gym offers a range of membership options to cater to different preferences and fitness needs. Here's a summary of the key membership choices:
24-Hour Access Membership: This option provides round-the-clock access to the gym, making it suitable for those with busy schedules. Prices typically range from $10 to $20 per week.
Flexible Membership: The flexible membership allows access during regular hours, providing a cost-effective alternative. Prices usually range from $12 to $22 per month.
Corporate Membership: Jetts Gym offers corporate memberships for businesses, allowing employees to enjoy discounts on gym memberships.
Students' Membership: Students can benefit from discounted rates, making it an affordable choice for those on a tight budget.
Senior Membership: Seniors aged 55 and above may qualify for discounted rates, offering a cost-effective fitness solution.
Can I Cancel My Jett's Gym Membership Anytime?
One of the most appealing aspects of Jetts Gym is the flexibility it offers to its members. The ability to cancel your Jetts Gym membership at any time is a key feature that aligns with the gym's commitment to providing accessible fitness without long-term commitments.
Understanding Jetts Gym's Cancellation Policy
Jetts Gym has designed its cancellation policy with simplicity and flexibility in mind. This policy allows members to cancel their memberships whenever they choose, without incurring excessive fees or dealing with complicated processes. Here's what you need to know about canceling your Jetts Gym membership:
Provide 30 Days' Notice: When you decide to cancel your Jetts Gym membership, the gym typically requires you to give at least 30 days' notice. This notice period is crucial to ensure a smooth transition and to halt any direct debit payments.
Payment Cycle Consideration: It's important to be aware that if you decide to cancel your membership in the middle of your billing cycle, you'll still be charged for that entire cycle. Jetts Gym typically doesn't issue refunds for partial periods. As such, it's wise to plan your cancellation timing to maximize your remaining membership benefits.
Refunds for Special Circumstances: While Jetts Gym generally doesn't provide refunds for regular cancellations, there may be exceptions for special circumstances. If unforeseen situations like injury, illness, or relocation necessitate your cancellation, you might be eligible for a pro-rata reimbursement of any membership fees that you haven't used. This policy shows Jetts Gym's commitment to accommodating members' unique needs.
Simplicity and Ease: The essence of Jetts Gym's cancellation policy is to make it simple and straightforward. You won't have to navigate complicated contracts or excessive fees, and you can cancel your membership with ease whenever you choose.
Is There a Jett's Gym Free Trial?
Jetts Gym, known for its affordable pricing and flexible membership options, doesn't typically offer a free trial for its services. However, they do provide various membership plans that cater to different needs and budgets, making it accessible to a wide range of individuals. While you may not find a traditional free trial, Jetts Gym's commitment to affordability allows you to explore their fitness facilities without the pressure of long-term contracts or excessive initiation fees. This means you can choose the membership that suits you best and enjoy the gym's benefits without a substantial financial commitment. If you're interested in Jetts Gym, you can contact your nearest location to learn about any special promotions, discounts, or trial periods they may be offering to new members.
How to Join Jetts Gym
Joining Jetts Gym is a straightforward process. Most customers begin by visiting the official Jetts Gym website. You'll typically be prompted to choose your location and specify whether you're a returning member or a new member. Afterward, you'll fill out the necessary forms and await contact from Jetts Gym staff, who will guide you through the payment process.
Jetts Gym Hours
Jetts Gym is known for its convenient 24/7 access, allowing members to work out whenever it suits their schedule. The gym is open round the clock, ensuring that you can maintain a consistent fitness routine, no matter your daily commitments.
Jetts Gym History
Jetts Gym was established in 2007 by the couple Brendon and Cristy Levenson on the Gold Coast, Queensland. Since then, the company has rapidly expanded, boasting 270 locations across five countries. In 2012, BRW ranked Jetts Gym as the fastest-growing franchise, with a remarkable turnover of $43 million and revenue growth of 403%. Jetts Gym is well-equipped with state-of-the-art fitness equipment, offering quality training and cardio activities. The emphasis on affordability has allowed people from various backgrounds to enjoy its facilities.
In Summary
Jetts Gym offers an affordable fitness solution with flexible membership options. Their commitment to 24/7 access, versatile payment plans, and a range of facilities makes it an attractive choice for fitness enthusiasts. With no long-term contracts or initiation fees, Jetts Gym aligns with their mission of making fitness accessible to everyone. Whether you're looking for a budget-friendly gym or a convenient fitness center that suits your schedule, Jetts Gym is worth considering.
Jetts Gym has an ongoing promotions so you might want to check out their official website for more information and to answer any other questions that you may have.
Jetts Gym Promo