September, 2021. Prices on this site are updated each month.
In today's fast-paced world, one of the main reasons why adults find it hard to go to the gym is their busy schedules. Commuting to the gym and working out can take at least an hour or so, which can be too time-consuming for a person who's preoccupied with work.
The good news is that there are gyms that can have their members work out in less than an hour. Take for instance, 9 Round Gym which is getting a lot of buzz. This fast-growing chain of gyms claims that its members can do a quick and convenient workout in just 30 minutes.
What's more enticing is that they don't have to drop by a certain time of the day, so they can schedule their workouts at the most convenient time. There's also a trainer who will guide them the rest of the day.
Below are the latest 9 Round prices.
Item
Price

Monthly Memberships

Single: One Adult

3-Months Term

Enrollment Fee (One Person) (3-Months Term)
$99.00
Monthly Fee (One Person) (3-Months Term)
$109.00
Cancellation Fee (One Person) (3-Months Term)
$0.00

6-Months Term

Enrollment Fee (One Person) (6-Months Term)
$99.00
Monthly Fee (One Person) (6-Months Term)
$89.00
Cancellation Fee (One Person) (6-Months Term)
$0.00

12-Months Term

Enrollment Fee (One Person) (12-Months Term)
$99.00
Monthly Fee (One Person) (12-Months Term)
$79.00
Cancellation Fee (One Person) (12-Months Term)
$0.00

12 Weeks Term

Enrollment Fee (One Person) (12 Weeks Term)
$0.00
One Time Fee (One Person) (12 Weeks Term)
$349.00
Cancellation Fee (One Person) (12 Weeks Term)
$0.00
Disclaimer: PriceListo gathers actual pricing information from sources such as on-site visits, business websites, and phone interviews. The prices reported on this webpage derive from one or more of those sources. Naturally, the prices reported on this website may not be current, and may not apply to all locations of a given business brand. To obtain current pricing, contact the individual business location of interest to you.
9 Round Fitness prices provided by
PriceListo
.
History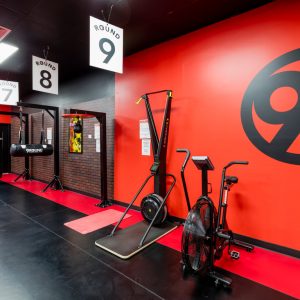 9Round was established in 2007, and started franchising two years later.  It was founded by professional kickboxer Shannon Hudson and Heather Hudson. It employs boxing and kickboxing fitness training methods, with customers moving between 9 various workout sessions.
It begins with stations 1 and 2 where dumb bells, kettle bells, jump ropes, medicine balls and other equipment are available for members to build on muscular strength and stamina. After these two stations, member will have to proceed to stations 3 to 8 where they'll have to hit a variety of bags to increase power, improve hand-eye coordination, timing, speed, and conditioning.  The last station is dedicated to strengthening of the core muscles.
Members will spend around three minutes at each station. They will have to perform various movements which will be demonstrated by their trainer. After the three-minute exercise, they'll be given a 30 second active rest before proceeding to the next station. Hence, they'll be done with their workouts in 30 minutes.
In 2015, Forbes listed 9Round as one of the most promising companies in the world. To date, it has more than 750 locations in the United States, Canada, Mexico, New Zealand, Australia, and Saudi Arabia. Its headquarters is based in Greenville, South Carolina.
Membership Fees and Benefits
Adults who are interested in trying the workouts offered by 9Round Gym will be thrilled to know that they don't have to pay anything for their first workout. This gives them the opportunity to see whether or not the workouts are good enough for them. If they do sign up for a membership, they'll have to pay for a monthly fee. 9Round Gym prices start at $79 a month.
Members are given 9Round gloves that are designed to let them hit as hard as possible without risking injuries. There are also hand wraps given to members to provide support to the wrists. 9Round trainers, who will be guiding them throughout the workouts, will also teach them how to wear the gloves and hand wraps.
There is also heart rate monitoring found at participating 9Round gym locations. Members also get access to a Nutrition Guide which teaches the principles of burning off body fats and building lean muscles. This guide was written by Dr. Rick Kattouf.
Other Privileges for Members
A typical 9Round location is small, unlike other gyms. Most locations have a dressing room and bathroom, but that's about it.  There are no showers in 9Round gyms, although there are some locations where cubes are placed for members to stash their stuff.
Most locations are open as early as 6 in the morning. Some close down after lunch then re-open after two hours. Depending on the size of the gym, trainers number between one to two individuals.  Most locations are also open during the weekends.
Although 9Round isn't a full-service gym where there are amenities like showers, many of its customers do not really mind it. After all, the target clients are busy executives, office workers, and professionals who usually come after work to exercise for 30 minutes and less.  9Round is also located in many business districts to better serve its clientele.
With a growing number of locations, 9Round is slowly becoming the go-to gym of busy individuals who don't have enough time to spend an hour or so in the gym, but still look forward to keeping themselves fit.
For more information about 9 Round Kickbox Fitness, visit their official website.