Oct, 2023. Prices may vary by location and are updated frequently.
Item
Price

Monthly Memberships

PF BLACK CARD

Access to Any Club & All the Perks

$1 Down - No Commitment - Black Card!

Startup Fee (One Person) (PF Black Card)
$1.00
Monthly Dues (One Person) (PF Black Card)
$22.99
Annual Fee (One Person) (PF Black Card)
$39.00
Cancellation Fee (One Person) (PF Black Card)
$0.00

CLASSIC

Unlimited Access to Your Home Club - One Club Access Only

12 Month Commitment

Startup Fee (One Person) (Classic)
$10.00
Monthly Dues (One Person) (Classic)
$10.00
Annual Fee (One Person) (Classic)
$39.00
Cancellation Fee (One Person) (Classic)
$0.00

NO COMMITMENT

Unlimited Access to Your Home Club - One Club Access Only

Cancel Anytime!

Startup Fee (One Person) (No Commitment)
$15.00
Monthly Dues (One Person) (No Commitment)
$15.00
Annual Fee (One Person) (No Commitment)
$39.00
Cancellation Fee (One Person) (No Commitment)
$0.00
Disclaimer: PriceListo gathers actual pricing information from sources such as on-site visits, business websites, and phone interviews. The prices reported on this webpage derive from one or more of those sources. Naturally, the prices reported on this website may not be current, and may not apply to all locations of a given business brand. To obtain current pricing, contact the individual business location of interest to you.
Planet Fitness prices provided by
PriceListo
.
What You Need To Know About Planet Fitness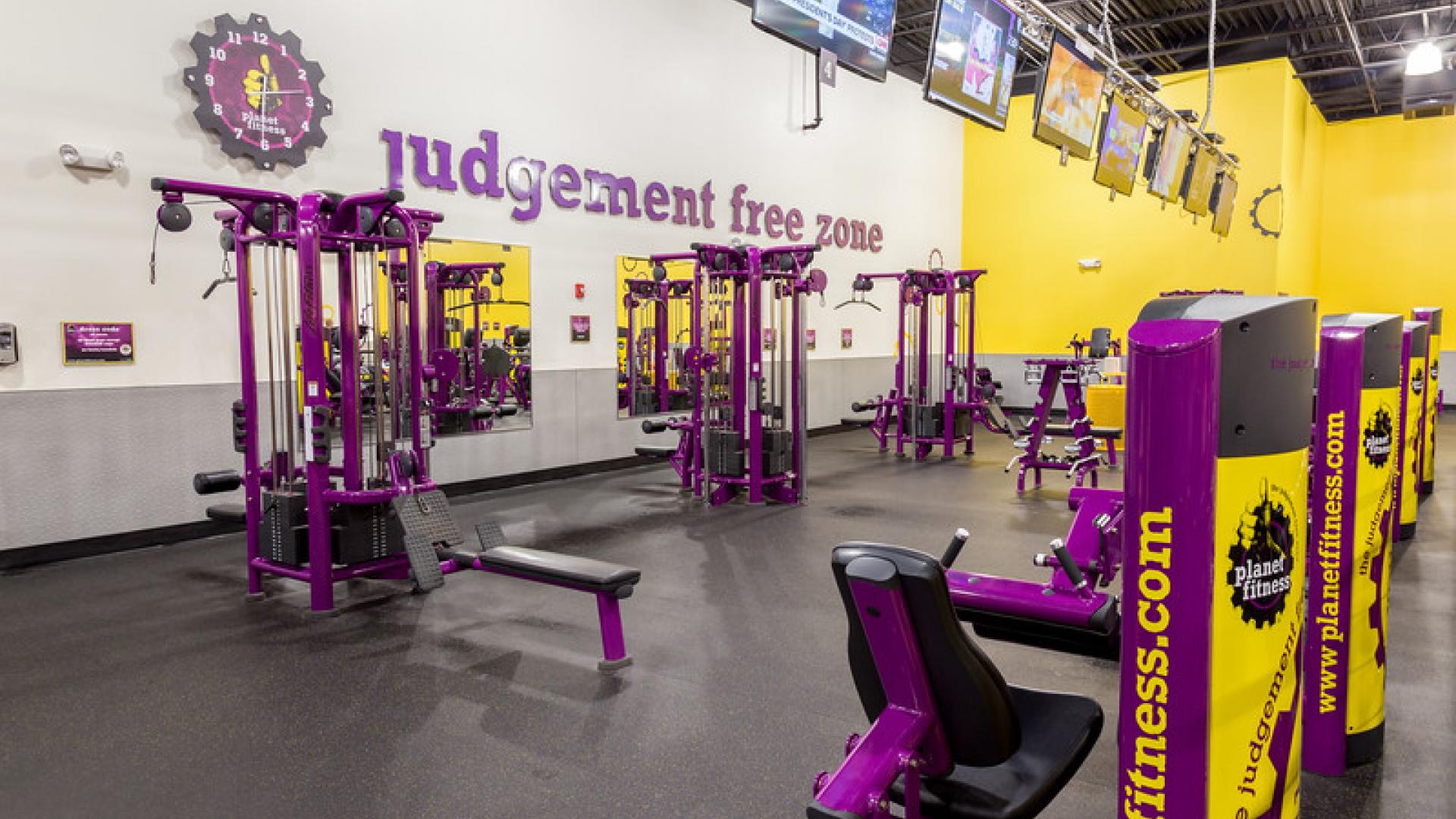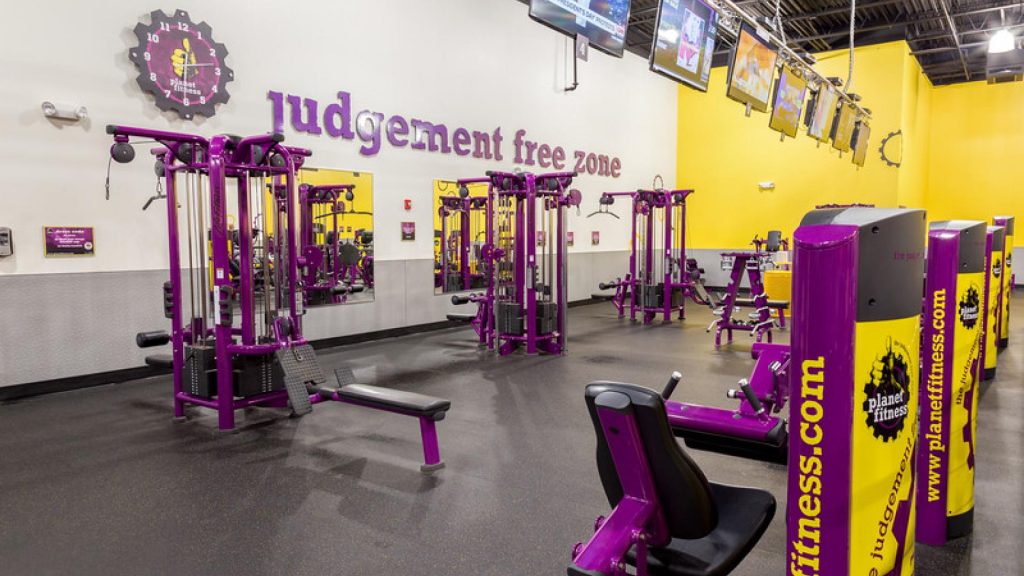 Planet Fitness Is WELL-Certified
Earlier this year, Planet Fitness acquired certification from International WELL Building Institute, a third-party organization that aims to create "people-first spaces."
It's a good economic decision for Planet Fitness, as the heath-safety rating guarantees its customers (and staff) that air quality, lighting, and the overall physical environment will not endanger anyone's well-being.
All Planet Fitness locations will display the certification from IWBI prominently, and this might have been one of the reasons why PF CEO Chris Rondeau made statements about the company "getting back to pre-COVID levels"a of membership.
In comparison to last year's decline in gym activity, the company is seeing growth, although the PF CEO expresses this in the negative; he says that "joins are NOT slowing down, they're NOT seeing cancellations rising…".
In addition to the IWBI health-safety rating, 2022's arrival is prompting people to come up with fitness resolutions, which the fitness industry could take advantage of.
Upgradeable Membership Perks
To help people accomplish these resolutions, Planet Fitness has come up with a guest pass access in the form of the PF Black Card, which we will be discussing later.
Planet Fitness helps new members start their fitness journey with perks like a mobile app, a virtual club tour (for individuals hesitant to be in crowds), workout gear, and their newest promotion for 2022: a 0$ enrolment fee with a 10$ monthly membership. Members could also cancel anytime. However, this offer (is) was only valid until January 6.
It's an improvement over the $1 down, $10 monthly membership offered to customers last year. The promotion lasted for 3 days, and had the same mechanics as the one offered this January 1 to 6.
Planet Fitness Black Card gives its members access to additional perks: members can go to any of the 2000+ locations nationwide, bring a plus one as often as they want (fees inclusive; contact your local PF for more details), free use of therapeutic devices like their massage chairs, tanning beds, half-price on drinks and discounted apparel from Reebok.
Basic membership at Planet Fitness has the following perks:
Free wifi
Access to Home Club
Unlimited use of training equipment*
*Does not include therapeutic equipment
Members with the PF Black Card get these additional perks:
Basic membership perks
Access to ANY PF location
Members can bring guests
Tanning Beds
Use of the Planet Fitness Hydromassage chairs and regular massage chairs
Use of the Beauty Angel / Total Body Enhancement* and tanning beds
Price slash on drinks
20% discount on Reebok
*only NY and Connecticut locations
Disclosure: Ideally, most locations should have all the perks that come with basic membership at PF. However, their website indicates that free Wifi may not be available at all locations, including the use of their Hydromassage (for Black Card members). It's also possible that the discounted drinks may have a limit. Contact the nearest PF for more information.
Current members of PF can upgrade their membership to obtain guest pass access, however, the pricing may vary depending on their current subscription.
While Planet Fitness is relying heavily on people's resolutions, they made sure more people joined the fitness bandwagon with an ad featuring Star Trek's William Shatner, ex-NBA player and unofficial ambassador to North Korea Dennis Rodman, and other artists. The video hasn't gained traction yet, but feel free to watch the video here.
Additional Safety Requirements to Expect from PF
Some of the problems most gyms and fitness brands will encounter will be the mask mandate – breathing becomes more difficult during exercise, and the lack of oxygen intake due to a mouth covering will be a huge detriment to performance.
In addition to the mask mandate, some states may require customers to present proof of vaccination. In Boston, most businesses will be requiring customers to at least have received a single dose of the vaccine to be allowed entry, although this will be up in the air until January 15.
The policy was announced by Mayor Wu, and the local government also has plans to develop their own app for verifying vaccination documents.
While the policies surrounding proof of vaccination hasn't been finalized, Planet Fitness is strongly encouraging members to follow their stringent protocols for health and safety.
It includes, but is not limited to, mask policies, crowd control, and touchless check-ins built into the PF mobile app. The app also features a live monitoring feature that tells customers the number of people currently using a facility.
While PF has a strong appeal towards people who wish to fulfill their fitness goals with a little mix of social interaction, they've also come up with online exercises to counter overcrowding.
These are just some of the many things that people can expect from Planet Fitness this 2022. For registration and upgrade of memberships, visit their website at planetfitness.com
Planet Fitness Promo
Planet Fitness FAQ
How much does Planet Fitness cost?
PF Black Card Plan: $22.99/month
Classic Plan: $10.00/month
No Commitment Plan: $15.00/month
How much is a Planet Fitness membership?
Membership fees start at $10 a month, making it more affordable than other fitness clubs, but there are other membership types available that you can sign up for such as the PF Black Card membership as it offers you everything the $22.99 does plus you get access to every Planet Fitness location, no limits to tanning and more.
Planet Fitness Day Pass?
Planet Fitness offers a one free day for interested individuals. Planet Fitness Clubs are independently owned and operated. Limit, one free day pass per person, per club every 90 days. You may be required to show identification upon check-in. All free day pass users will be required to take a club tour.
How much is Planet Fitness annual fee?
Planet Fitness annual fees are $39.00 per person.