2023. Prices may vary by location and are updated frequently.
Item
Price

Memberships

Monthly

Initiation Fee (Per Person) (No Contract)
$99.00
Monthly Fee (Per Person) (Monthly)
$89.00

Monthly (12 Month Agreement)

Initiation Fee (Per Person) (With Contract)
$99.00
Monthly Fee (Per Person) (12 Month Agreement)
$69.00

Annually

Initiation Fee (Per Person)
$99.00
Yearly Fee (Per Person) (Annually)
$759.00

Per Class

1 Class
$20.00
Disclaimer: PriceListo gathers actual pricing information from sources such as on-site visits, business websites, and phone interviews. The prices reported on this webpage derive from one or more of those sources. Naturally, the prices reported on this website may not be current, and may not apply to all locations of a given business brand. To obtain current pricing, contact the individual business location of interest to you.
Title Boxing Club prices provided by
PriceListo
.
About Title Boxing Club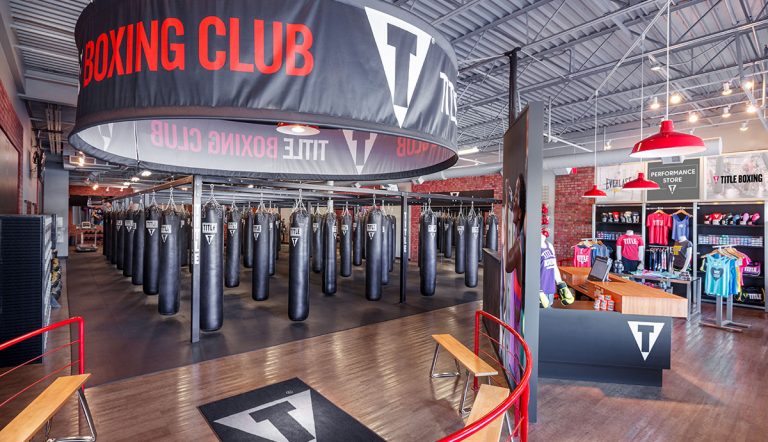 Title Boxing Club is a fitness gym that specializes in boxing and other forms of functional strength training. Here's a summary of their plans for 2022.
Free Boxing Classes and Guest Pass Information
Title Boxing Club starts off strong with their 7-day free trial. However, this is a promotion for At-Home Boxing Workouts.
Yes, it's a virtual class, but when it comes to the repository of knowledge available in-app, it's unmatched. Title Boxing Club is only one of the few boxing clubs to offer virtual training, and they remain to be the best at what they do.
Why You Should Join Title Boxing Club
Aside from the 7-day Trial for virtual boxing classes, Title Boxing Club isn't limited to just boxing. They also offer kickboxing, which is a more hands-on approach, literally speaking.
Title Boxing Club offers two packages for new members. The monthly membership is $20.00, and the yearly membership package costs $200.00. Both come with a free 7-day trial period, so new customers can have a feel of how long they want to commit themselves to it.
Hundreds Of Workouts
The best thing about Title Boxing Club is the variety of workout sets possible. Each week, members can choose what type of workouts to perform.
It's never boring since Title Boxing Club rotates workouts weekly, allowing beginners and long-time members to get into the same level of comfort and intensity in the workouts.
For new members, they can also plan their routine – with or without equipment, high intensity, or even weight training.
It wouldn't be a boxing club if there was no focus on techniques, that's why Title Boxing Club made sure video lessons on boxing techniques are available on the website and on the app.
There are currently 19 video clips showing the various techniques used by professional boxers. Beginners to boxing and fitness can heavily benefit from these tutorials.
They also specialize in shadow boxing – basically where one pretends they're sparring with an opponent, allowing individuals to train as if they're inside a boxing ring.
This form of training is beginner-friendly, especially if the person is lacking the strength necessary when sparring with a real or practice opponent.
Other programs offered at the Title Boxing club include high-intensity workouts combined with shadow boxing techniques, core training, and recovery stretch, a neat cool down training program that helps trainees increase their muscle's healing times.
COVID Protocols
As with any other fitness facility, Title Boxing Club has several measures in place to ensure the safety of its members.
Aside from the numerous virtual training classes provided in-app and on the website, they also have social distancing, disinfection protocols, and other government-mandated requirements for operating their business in the midst of the pandemic
It's explicitly stated in their website that the fitness club's number one priority is their member's well-being.
Free In-App Title Classes
Since most states have mandated closure of fitness studios during the early days of the coronavirus pandemic, Title Boxing Club immediately made the workouts on the app free to all registered members.
It's good news for patrons of the club, as they get to continue their fitness goals even if they're not physically present in the studio.
The promotion was valid for 30 days, but from time to time some studios will provide it to their members. Current members can contact their local Title Boxing Club for any updates on this promo.
Class Size Reduction
Aside from the virtual classes, Title Boxing Club will reduce the number of participants in their classes. This is to reduce the risk of transmission, and also allows its members and staff to practice the six feet social distance.
Scheduled Cleaning
Classes will be reduced to 45 minutes, but that doesn't mean the number of workouts will be decreased. Trainers at Title Boxing Club will basically "convert" the workouts to an HIIT form. While this may come as a shock to beginners, consideration will be given to the level of experience members have.
The class time reduction is done to allow Title Boxing Club staff to conduct scheduled cleaning. After class, all surfaces will be disinfected.
Title Boxing Club will also forbid the borrowing of gloves as these equipment are classified high-risk when it comes to cross contamination. All yoga mats will also be disinfected, as well as medicine balls, and other equipment considered high-touch points.
All Title Boxing Clubs will enforce strict sanitation procedures such as handwashing, and the provision of several hand sanitizing stations.
Since the Title Boxing Club is a franchise, each boxing studio may have a different setup or a different set of COVID policies. Members are always welcome to check out several of their social media outlets to find out their local Title Boxing Club has to offer.
For more information about Title Boxing Club, visit their official website.
Title Boxing Club Promo
Title Boxing Club FAQ
How much are classes at Title Boxing Club?
1 Class starts at $20 per person.
How much is a Title Boxing membership?
Title Boxing Club fees vary; it depends on the location of the club and the membership plan that you choose. Generally, a no-contract membership at a Title Boxing Club location costs around $89 a month, and a $99 in enrolment fee.
How much is Title Boxing a month?
Monthly (no contract) – $89.00
Monthly (with 12-month agreement contract) – $69.00
How much are initiation fees at title boxing club?
Initiation Fee start at $99 per person.