July, 2021. Prices on this site are updated each month.
Bodyplex membership fees may initially appear higher than average but when its superior exercise equipment, gym facilities, and group classes are considered, these prices become more reasonable.
Bodyplex gyms, after all, are created with the firm conviction that members should not settle for anything less than the best in their workout environment – or as the management says it, the gyms raise the bar of excellence in the fitness industry!
Bodyplex Fitness Adventure, by the way, is an Atlanta, Georgia-based full service health club chain with several fitness centers across the state. The health clubs are located in Alpharetta, Blue Ridge, Milledgeville, Newnan, Grayson, Hiram, Cartersville, Lake Oconee, Elberton, Jasper, Oakwood, Buford, and Woodstock, as well as in Canovanas & Guaynabo, Caparra, and Puerto Rico.
Below are the latest Bodyplex prices.
Item
Price

12 Months

Single: One Adult

Initiation Fee (Single Person)
$75.00
Monthly Fee (Single Person)
$27.00
Cancellation Fee (Single Person)
$0.00

Dual: Two Adults

Initiation Fee (Two Adults)
$100.00
Monthly Fee (Two Adults)
$52.00
Cancellation Fee (Two Adults)
$0.00

24 Months

Single: One Adult

Initiation Fee (One Person)
$75.00
Annual Fee (One Person)
$22.00
Cancellation Fee (One Person)
$0.00

Dual: Two Adults

Initiation Fee (Two People)
$100.00
Annual Fee (Two People)
$49.00
Cancellation Fee (Two People)
$0.00
Disclaimer: PriceListo gathers actual pricing information from sources such as on-site visits, business websites, and phone interviews. The prices reported on this webpage derive from one or more of those sources. Naturally, the prices reported on this website may not be current, and may not apply to all locations of a given business brand. To obtain current pricing, contact the individual business location of interest to you.
Bodyplex prices provided by
PriceListo
.
Equipment and Facilities Available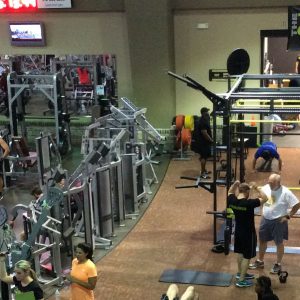 Each Bodyplex gym offers several exercise equipment, group classes and personal training packages, and gym facilities that will more than meet the demands of the most discerning gym-goer. Members and non-members alike can access the following facilities:
Group exercise classes designed for all body types, abilities, and schedules. You can either add on your preferred group exercise into your membership or purchase a punch card for participation in the classes, such as Bodypump, Body Combat, Bodyflow, BodyAttack, CXWorkx, Zumba, and ZumbaGold.
Children's classes including the Born to Move program. Your kids will appreciate the benefits of physical exercise instead of adopting a sedentary lifestyle early in their lives.
Personal training packages are also available. You will work with the Bodyplex gym's nationally certified trainers to develop your customized training plan as well as aid in achieving your fitness goals, whether you want to lose weight, increase your strength, or improve your marathon endurance.
Cardio Cinema combines the benefits of watching the latest blockbusters while getting physical, so to speak, on the treadmill, stationary bike, or elliptical machine. You can watch a different movie every day so that your payment of the Bodyplex prices means that you are getting two services for the value of one.
Cardio and strength training equipment kept in excellent condition to ensure exercise efficiency and safety for all users. You will find all the standard and state-of-the-art equipment necessary to meet your exercise needs and wants, whether you are on a weight loss program or on a bodybuilding plan.
Specialty studios dedicated to specific exercise plans, such as Women's FitStudio and Spin Studio, means that participants can focus on their movements.
Bodyplex gyms are also open 24 hours a day, thus, you can set your own schedule instead of being limited by the hours. You have to set appointments with a personal trainer and follow the group class schedule, however, for obvious reasons. You can come in anytime for your do-it-yourself exercises.  You will also appreciate the other amenities in the gyms, such as the Kidnation Room, a childcare facility where children will be provided with safe and fun activities, and well-appointed showers and locker rooms.
Membership Benefits and Privileges
When you become a member of a Bodyplex gym, you can look forward to these benefits of membership:
Free fitness consultation with a personal trainer to determine your physical condition in relation to your fitness goals;
Personal profile on the gym's Exclusive Bio X Tracking software wherein you can track your fitness progress;
Customized workout plan via the PlexPlan, which every personal trainer ensures will work according to the specific needs and wants of each member (i.e., no feeling like a number on the profit board).
Of course, when you become a member, you will have greater access to the exercise equipment and gym facilities including the childcare center at any time when you want to use them. You can pay for the add-ons, such as when you want to join group classes, easily since you are already a recognized member.
Should You Become a Member of Bodyplex?
Bodyplex membership is a desirable thing to have for a fitness aficionado for several reasons including:
State-of-the-art cardio and strength training equipment that not every gym provides its clients. You will appreciate the regular maintenance measures implemented by the gym to ensure that, indeed, the pieces of equipment are always in excellent working condition.
Ample spaces between the exercise equipment and in the specialty studios, thus, ensuring your optimum comfort, safety and freedom of movement while working out. You don't even have to worry about overcrowding in the group classes as the number of participants are limited and you can always come in at your own time (e.g., late at night or early in the morning) to avoid the crowd.
Enthusiastic certified personal trainers who share your passion in achieving a healthy lifestyle and a great physique no matter your body type.  You will also like it that everybody on the staff from the receptionists to the utility men are accommodating without being intrusive in their jobs, a must when you want to have more information about the equipment and facilities in the gym but you want to keep things on a professional level.  If you are not yet a member of a Bodyplex gym, then you should be one now!
For more information about Bodyplex, visit their official website.