Resistance bands improve your strength, flexibility and balance. No matter which muscle group you're working on, these bands can definitely give an added challenge to your workouts. But not all resistance bands are created equal. If you're looking to buy one, take a look at our recommended products below.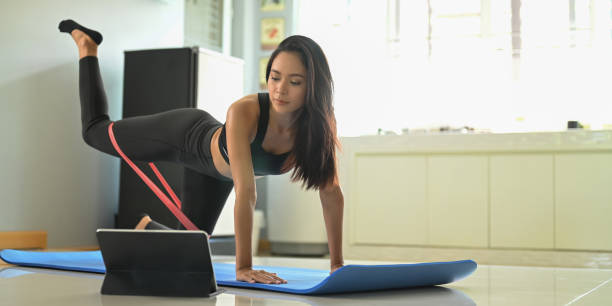 RenoJ Resistance Bands Set
Pros

Grippy
Inexpensive
Comes with mesh bag
Comes with instructions
Recommended for beginners

Cons

Maximum tension not as intense as others
As far as loop bands go, this one is a winner thanks to its latex-polyester knit composition and non-slip grip. The double-stitched, woven style seam looks durable and helps prevent the band from tearing, snapping, or unraveling. It comes with three bands in various resistance levels (light, medium, and heavy).
The Renoj bands also includes a mesh bag for proper storage and portability. You also get information on exercises that utilize these bands which is an added bonus.
Insonder Resistance Bands Set
Pros

Has 5 resistance levels
Comes with a bag

Cons

May slip if skin is wet
No instructions
With the Insonder Resistance Bands Set you get 5 bands with various tension levels – ranging from 10 to 40 pounds. It is an inexpensive loop band set that can be used for a variety of stretches and exercises.
The bands are thick and durable. They are also clearly labeled so you'll know their resistance levels. The material for the band is latex but there's no static because of the chalk-like residue coating. The surface is also smooth. However, it does seem to slightly slip when you grip it with wet, sweaty hands. These bands are very lightweight and also includes a compact bag for portability.
BC Strength Glute Loop Package
Pros

Durable knit design
Grippy and non-slip
Doesn't slide on sweaty hands
Great for advanced users

Cons
The BC Strength Glute Loops are very durable bands. This six-pack set may cost a pretty penny but with the high-quality knit fabric, you're likely to be using it for a very long time.
The bands can be used for arm workouts, leg exercises and stretching. The bands won't budge or slip because of the quality non-slip strip.
Take note that even the lightweight bands are a bit heavy—so they're more suitable for advanced users. The set includes two diameter sizes allowing you the ability to complete more exercises regardless of body size.
GoFit Extreme Pro Gym Set
Pros

It has multiple accessories
Tubes are durable
Hardware also durable
Carrying bag included
Instructions included

Cons

Resistance levels slightly inaccurate
The set weighs a bit heavy
The most popular type of resistance bands are the loop bands, but tube bands are also great. They're very versatile and you can easily incorporate them with a wide range of exercises. The GoFit Extreme Pro Gym Set comes with several accessories including a set of handles, ankle straps, and high-quality door anchors. The hardware appears high quality and has foam on the ankle straps and handles. Even with wet or sweaty hands, these things don't slip as well.
Whatafit Resistance Bands Set
Pros

Comes with several accessories
Comes with a carrying bag
Manual included

Cons

Lighter bands seem not very durability
Resistance levels may be a tad inaccurate
If you want a budget-friendly set of tube bands, then the Whatafit Resistance Bands Set may just be what you're looking for. Quality-wise it's pretty good and the bands are comfortable to use. Even when you're sweaty, the handles don't slip. Ankle straps may not have the same foam quality it still is comfortable enough.
Tensions for the tubes are 10 – 50 lbs and you also get a door anchor, handles and ankle straps. But the accessories don't look very durable, unlike the tubes.
Serious Steel Assisted Pull-up Band
Pros

Resistance levels are clearly labeled
No slipping
Four bands included

Cons

Not very portable
Not very versatile
If your objective is to improve your pull-up game, then you need power bands. And in this category, very few can compare to the Serious Steel Assisted Pull-Up Bands. They're longer and thicker, and includes four bands with various resistance options. The bands also feel sturdy on dry and wet skin, and they're color coded as well so you know which level you're using.
Check out more resistance band reviews here:
Best Resistance Bands, Loops & Ankle Straps I've Ever Used!