Dallas, a club owner in Tampa, is a role portrayed by Matthew McConaughey in the movie Magic Mike. This role gave him the motivation to perform high-intensity workouts as well as maintain a strict diet. In this film, McConaughey needed to show a very lean and very solid six-pack abs. To satisfy our curiosity, his trainer and nutritionist shares how to achieve a similar body like McConaughey's.
But let's set something straight here: Matthew McConaughey is not fat. However he was expected to look great when shirtless just like his male co stars Channing Tatum and Joe Manganiello, who are famous for their six-pack abs. So, even though he already has a good built, he and his trainer were challenged to develop those muscles to an even better shape.
Matthew's Magic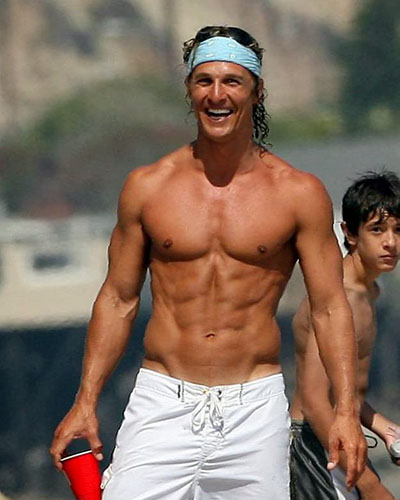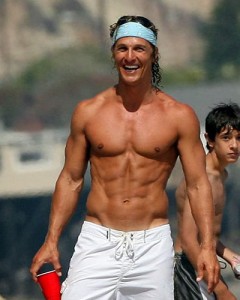 To get in shape, Matthew needed the help of the experts. Of course, it is not magic, the formula requires discipline and motivation. His team included well-known experts in training and nutritionists of celebrities like Chris Lockwood and Gunnar Peterson.
According to Bodybuilding.com, who had an exclusive view of Matthew's preparation for the movie, the magic was a result of a ridiculous abs workout and other high-intensity exercises formulated by Peterson. On the other hand, Lockwood made sure that he follows the strict diet that would get him to be in the best shape possible.
Since Sahara 2005, Gunnar Peterson helped out in McConaughey's training that is why their relationship during their workout routines to show muscles for his role in Magic Mike was very effective. During an interview, Peterson shared some of his intensive training experiences with McConaughey:
He Simply Does not Age
According to Peterson, McConaughey is very conscious about his physique. He keeps himself fit with or without a movie project. He makes sure that he is always ready and on the go whatever his next assignment is. "His 'out-of-shape' is most guys' peak level," he added.
Goals for Magic Mike
He wanted to make feel his role as the club owner. He wants to convince the audience that he is a guy who has made this as his livelihood and although getting older, he can still keep up with the young ones.
Was It Tough?
Yes apparently so since they only had two weeks to improve his body. The good thing is, McConaughey already had a decent level of fitness they just needed to develop more muscles and shred body fats. Maintaining is another challenge. The two-week program was so extreme that he needs to come for intensive training every day for two weeks. It is pure hard work and is just good that he is always up for the challenge and a full gamer.
Type of Training
According to Peterson, they used a cardio workout with a lot of intervals and weight training in between. Brain engagement was also used to make sure that he can push more challenging exercises at different intervals. They did circuit training by putting a lot of things in the workout to stimulate different muscle groups. McConaughey played a male strip dancer, so he needed to work on his shoulders as well. With this, a lot of squat presses did the job. For great abs, he did the lot of legs raises with resistance and planks.
Maintenance
He did some resistance training and body weight exercises to increase his metabolism. He also changes his workout plans to make it more challenging for him.
Conclusion
If you want to achieve a same lean and sexy body like McConaughey's you may want to try this training program. Try to build muscles to a point where you feel you need it and switch workout plans over time to highlight the appearance of the muscle. Make sure as well that other areas of the body compliments with your built. The guys in Magic Mike impressed us with their bodies. Although they are not professional weight lifters, they showed what you will get from proper training and discipline. Also, remember that these guys do not just rely on their workout routine. They have expert trainers and nutritionist to look into their everyday activities.
Now if you want to start working out to shed some fat and become lean, there are gyms that have all the facilities and tools you need. You can check out Koko Fit Club or even the UFC gym to be able to achieve your fitness goals.