Dec, 2023. Prices on this site are updated each month.
Item
Price

Monthly Memberships

Pre-Opening Offer

Joining Fee (Per Person) (Pre-Opening Offer)
£15.00
Monthly Fee (Per Person) (Pre-Opening Offer)
£17.99

Regular Monthly

Joining Fee (Per Person) (Regular Monthly)
£15.00
Monthly Fee (Per Person) (Regular Monthly)
£22.99

All Club Access

Joining Fee (Per Person) (All Club Access)
£15.00
Monthly Fee (Per Person) (All Club Access)
£26.99
Disclaimer: PriceListo gathers actual pricing information from sources such as on-site visits, business websites, and phone interviews. The prices reported on this webpage derive from one or more of those sources. Naturally, the prices reported on this website may not be current, and may not apply to all locations of a given business brand. To obtain current pricing, contact the individual business location of interest to you.
Pure Gym prices provided by
PriceListo
.
When it comes to fitness in the United Kingdom, PureGym is a name that often comes up. With its widespread presence and reputation for providing accessible and flexible fitness options, PureGym has become a popular choice for individuals pursuing a healthier lifestyle. Learn more about PureGym prices, membership rates, membership benefits, range of amenities offered and more on this page.
PureGym Membership Cost
PureGym offers various membership options to cater to different preferences and budgets. The rates can vary based on factors such as location and the specific type of membership chosen. Here's an overview of the typical membership packages:
Standard Membership: This basic membership typically provides access to a specific PureGym location during regular operating hours. Monthly rates can range from £18 to £27, depending on the location and current promotions.
Off-Peak Membership: Ideal for those who prefer to work out during less busy hours, the off-peak membership offers access to the gym during specified off-peak times at a lower monthly rate.
Multi-Gym Membership: For individuals who want the flexibility to work out at any PureGym location, the multi-gym membership allows access to all PureGym branches nationwide. This option is usually priced higher, ranging from £20 to £40 per month.
No Contract (Month-to-Month) Membership: PureGym recognizes the need for flexibility, offering a no-contract, month-to-month membership option. While this option might have a slightly higher monthly fee, it allows members to cancel with short notice.
PureGym Annual Fees and Initiation Fee
PureGym typically charges an annual fee to cover maintenance and upkeep of gym facilities. The annual fee, which ranges from £15 to £35, is separate from the monthly membership dues and is charged annually on the membership anniversary date. There may also be a £15 joining fee for new members.
Cancellation Fee and Freeze Option
PureGym's cancellation policy is designed to provide flexibility to its members. If you have a monthly rolling contract, you can cancel your membership at any time with a notice period of 30 days. For fixed-term contracts, cancellation may be subject to a fee depending on the circumstances, such as relocation outside a reasonable distance from any PureGym location.
Additionally, PureGym offers the option to freeze your membership temporarily. This can be beneficial if you are facing circumstances that prevent you from using the gym for a certain period, such as illness or travel.
PureGym Pros and Cons
Pros
Affordability: PureGym is known for its budget-friendly membership options, making fitness accessible to a broad demographic.
Flexibility: With various membership types and a no-contract option, PureGym provides flexibility to suit different lifestyles and preferences.
Extensive Operating Hours: Many PureGym locations operate 24/7, allowing members to work out at any time that suits their schedule.
No Initiation Fee: The absence of an initiation fee lowers the financial barrier for those looking to join PureGym.
Nationwide Access: Multi-gym members enjoy the convenience of accessing any PureGym facility across the country.
Cons
Crowding During Peak Hours: Some members have reported crowding, especially during peak hours, leading to potential wait times for equipment.
Variable Equipment Quality: While PureGym provides a wide range of equipment, the quality may vary between locations.
Limited Classes in Standard Memberships: Standard memberships might have limited access to certain classes, which could be a drawback for those seeking a more diverse workout experience.
Membership Benefits
PureGym offers several benefits to its members, enhancing the overall fitness experience:
Access to All Facilities: Members enjoy access to a variety of fitness equipment, including cardio machines, strength training equipment, and free weights.
Free Fitness Classes: Many PureGym locations offer complimentary fitness classes as part of the membership, providing members with additional workout options.
Online Workouts: PureGym provides online workout resources, including virtual classes and workout plans, offering flexibility for those who prefer to exercise at home.
Fitness App: The PureGym app allows members to manage their accounts, book classes, and access workout plans, providing a convenient way to stay connected with their fitness journey.
Discounts and Promotions: PureGym frequently runs promotions and offers discounts on memberships, making it more cost-effective for members.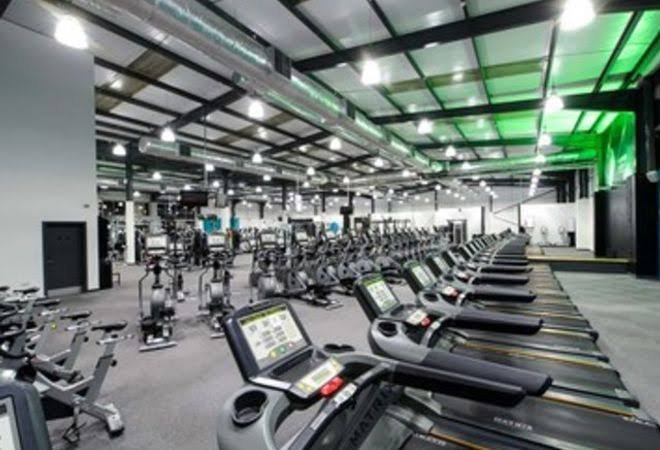 Amenities
PureGym facilities are equipped with various amenities to enhance the overall fitness experience:
Cardio Area: A dedicated space with a variety of cardio machines such as treadmills, ellipticals, and stationary bikes.
Strength Training Zone: A comprehensive area with free weights, resistance machines, and other strength training equipment.
Functional Training Area: Space for functional training exercises, including kettlebells, TRX, and stability balls.
Fitness Studios: Studios for group fitness classes, providing members with opportunities to join instructor-led sessions.
Changing Rooms and Showers: Well-maintained changing facilities with showers for the convenience of members.
Café and Nutrition Bar: Some PureGym locations feature a café or nutrition bar, offering healthy snacks and refreshments.
PureGym Business Hours
PureGym is known for its extensive operating hours, with many locations operating 24 hours a day, seven days a week. This flexibility allows members to work out at their preferred times, whether it's early in the morning or late at night.
Free Trial and Guest Pass
PureGym understands the importance of trying out the gym before committing to a membership. While PureGym does not typically offer free trials, they often provide guest passes that allow individuals to experience the facilities firsthand. Guest passes may be available for a limited duration, providing access to the gym and its amenities.
Can I Freeze My PureGym Membership?
PureGym provides a flexible approach to freezing memberships, allowing members to temporarily suspend their payments and access to the gym. The freeze option is typically available for the following reasons:
Medical Reasons: If you are dealing with a medical condition that prevents you from using the gym temporarily, PureGym may allow you to freeze your membership.
Pregnancy: For expecting mothers, PureGym understands the importance of adjusting fitness routines during pregnancy. Members may be eligible to freeze their membership during this time.
Travel or Work Commitments: If you have work-related travel or other commitments that take you away from your local PureGym location for an extended period, you may be able to freeze your membership.
Financial Hardship: In some cases, PureGym may consider freezing memberships due to financial difficulties. This is usually assessed on a case-by-case basis.
How to Freeze Your Membership
The process of freezing your membership at PureGym is typically straightforward. Here's a general guide:
Contact PureGym: Reach out to PureGym's customer service or visit your local branch to inquire about freezing your membership. You may be required to provide supporting documentation, such as a medical certificate or proof of travel.
Specify Duration: Inform PureGym about the duration for which you need to freeze your membership. This can vary based on the reason for the freeze.
Understand Terms and Conditions: Familiarize yourself with the terms and conditions associated with freezing your membership. This may include any applicable fees or conditions for reactivating your membership.
Provide Notice: PureGym typically requires advance notice for freezing memberships, so make sure to communicate your request in a timely manner.
Does PureGym Require a Membership Contract?
For those who prefer flexibility and the option to make decisions on a month-to-month basis, PureGym offers no-contract memberships. These memberships do not require a long-term commitment, providing members the freedom to cancel with a short notice period.
Advantages of No-Contract Memberships:
Flexibility: No-contract memberships offer the flexibility to cancel or freeze your membership with a shorter notice period, making it ideal for those with uncertain schedules or changing circumstances.
Freedom to Cancel Anytime: Members with no-contract options can typically cancel their membership at any time without incurring hefty cancellation fees.
Adaptability: Ideal for individuals who may be new to fitness or unsure about their long-term commitment, as it allows them to test the gym environment without a lengthy contract.
PureGym History
PureGym is the largest gym chain in Britain with more than 160 gyms across the United Kingdom. Their number of gyms shoot up when they were able to acquire all the gyms of their rival fitness chain, the LA Fitness. Aside from the huge number of facilities, PureGym also has a significant amount of members with about 450,000 currently signed up.
They are planning to expand even further as there are plans of opening up 300+ more gyms by the year 2022. The gyms are open 24 hours a day and seven days a week, so you can workout any time that you want. You can comfortably do your exercise routines in their fully air conditioned facilities in your chosen location.
PureGym started in 2009 with four sites in Leeds, Manchester, Wolverhampton, and Edinburgh. Its founder and CEO is Peter Roberts, a trained chartered surveyor who became a leisure entrepreneur. He first invested in resorts, night clubs, and hotels, but he got the idea for Pure Gym when he spotted low cost gyms trending overseas.
You can visit Pure Gym's official website for additional information and to chance upon some online promotions.
PureGym Promo